What is whogohost
whogohost is one of the most popular web hosting and domain registration company in nigeria and it was founded in the year 2007 by Opeyemi Awoyemi.
they are also known for their fast customer care support and services, their office is located at Plot 3A, Olumuyiwa Street, Off Babington Ashaye Cresent, Omole Phase 1, Lagos.
Whogohost Features
WhoGoHost's shared hosting and WordPress hosting packages come with a number of standard features such as:
Domain registration
DNS zone editor
Unlimited emails
Web-based file manager
FTP accounts
MySQL databases
SMS and email notifications
CGI, RUBY, Perl extensions
Cron Jobs
Rather than using a customized panel, WhoGoHost use cPanel, a simple and intuitive panel that comes with a number of features and tools. Softaculous one-click app installer is included, so with a few clicks, you can set up WordPress, Joomla, Magento, Drupal, or an OpenCart store and secure it with SSL. That's not all; you can create databases, personalized emails, and upload files. I encourage you to check out the cPanel demo to get a feel for the backend.
When it comes to hosting, there is no substitute for good speed and performance. Every hosting package at WhoGoHost, starting with the shared hosting all the way to VPS and dedicated servers, comes with a 99.9% uptime guarantee. Housed in secure locations, servers also run on an enterprise grade platform, which can support high-end apps and services.
Security-wise, it has a number of extras that I would recommend you get to secure your websites and data. You should consider CodeGuard for automatic backup and file restores, premium SSL for your enterprise websites, and Sitelock, which takes care of daily malware scans. G Suite is also available for customers who want to create a collaborative environment for their teams.
Pricing and Support
With a number of well-thought-out plans, WhoGoHost gives its customers a range of options based on website traffic and resource needs. The basic plans (Aspire and Premium) are good enough for hosting low traffic websites while Pro Plan, the intermediate plan, is suitable for websites with moderate traffic. At the other end of the spectrum are the Deluxe and Pro Plans, which are designed for high traffic websites.
Price-wise, WhoGoHost is affordable and the good thing is that they offer flexible billing cycles starting with monthly subscriptions all the way to triennial plans. While checking out, I had a number of payment options including PayPal, Wire Transfer, and local bank deposits. I was happy to note that there was also no setup fee charged.
WhoGoHost provides support via email, online ticketing, and live chat. Abubakar, the live chat operator that responded to me, told me they would assist with website migration once I signed up for any of their plans, and gave me a link to use to file a request for website transfer. Besides contacting support, you can also check out the knowledge base and tutorials. I found them quite useful for setting up emails in cPanel, among other things.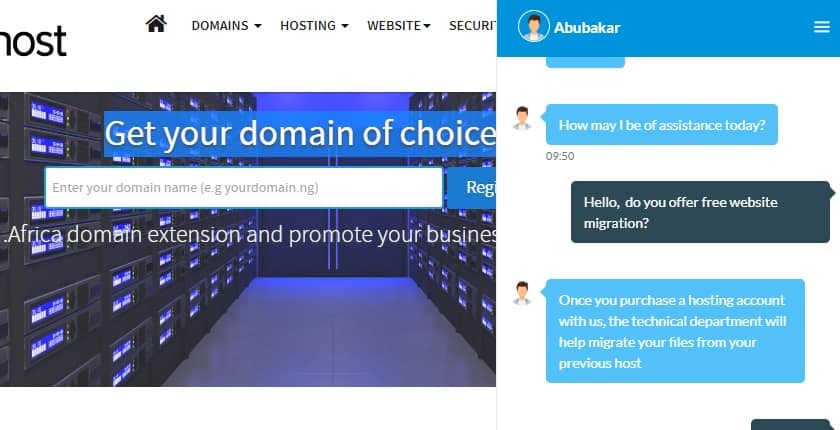 How much does WhoGoHost cost?
WhoGoHost offers plans from $1 to $7. The price depends on which type of hosting plan you choose. You can see the updated pricing table (updated weekly) below.
Which WhoGoHost plan should I get?
My recommendation is to start with a cheaper plan. You can always upgrade later on. WhoGoHost can help you with the migration to a more expensive plan. The increase in visitors many times takes longer than expected and you shouldn't pay a lot of money until the need arises. Of course, your needs may vary, and you can consult with a hosting expert from WhoGoHost.
Does whogohost offer promo and coupon codes ?
yes they do, whogohost offers coupon codes inclusively for hosting and domain registration
you can check if there is any promo going on via whogohost click here
To use the promo code, you have to first place your order and then checkout. On the checkout page, scroll to the bottom of the page and enter the promo code in the "Promotional Code" text box.
Next, validate the code by clicking the Validate code button. If your order qualifies, your total amount payable would be discounted. If you have any issues with this, contact Whogohost with [email protected].
CONCLUSION
from experience: whogohost still needs to upgrade their server aspect as they usually get lots of errors according to the majority of complaints gathered from the internet and from a practical experience but nevertheless,Whogohost has upgraded and improved in their functionalities and have  recently changed alot of their "customer satisfactory  behavior" besides Change is inevitable, they might have a poor service today but tomorrow might be different. One of the reasons i like Whogohost is that they  got ne of the fastest customer support you would ever wish for, you can contact them via through live chat, email, WhatsApp or through a phone call.
cheers.