What Is Cash App?
Cash App is a peer-to-peer mobile payment app formerly known as Square Cash.allowing users to transfer money to one another using a mobile phone app. As of February 18, 2018, the service recorded 7 million active users
How does Cash App Work?
You download Cash App  from Cash.app website and enter your mobile number or email to create a unique usernam,e the app calls a $Cashtag. You then link your bank account or debit card information. and your good to go.
Is Cash App Safe?
Cash App is safe and reliable to use for the most part as long as you follow instructions and keep other people out of your account. Use the password lock on your phone and don't share your account information with anyone. Cash itself has security locks including PIN entry, touch ID and facial ID.
also read Whatsapp TV: Best Guide on How To Make Money on your Whatsapp Status
Do you need a bank account for cash app?
Yes all peer to peer services like paypal, payoneer etc all require users to add and connect their bank account however you can send money from cash app without a bank account through Wire Transfers, Digital and mobile wallets etc.
the same thing goes for debit cards, you can transfer funds without a debit card on cash app.
Features of Cash App
Protect payments with Face ID, Touch ID, or a passcode.
Make your first payment within minutes.
Buy and Sell Bitcoin from the App.
Free debit card.
also read All you need to know about tailwind marketing and Top 14 tailwind tribes to join
What are the Cash App fees?
Cash App's site doesn't make it easy to see all fees in one spot. Rather, it spreads out fee disclosures across multiple themed pages: ATMs, Bitcoin and cashouts, for example.
It's free to send money to your Cash App balance from a bank account, though it appears you'll need to use your bank debit card to do so.
If you don't want to wait up to three days for your transfer to hit your bank account, you can pay a fee equal to 1.5% of your transaction for an instant deposit.
Cash App's site says that you can use your Cash Card debit card to withdraw money from your balance at an ATM without a fee. Otherwise, it's not up front about what you'll pay for transactions to and from your Cash App account.
How to add a debit card to your Cash App account
1. Unlock your iPhone or Android device and launch the Cash App.
2. On the Cash App home screen, tap the "My Cash" tab, which is located on the far-left at the bottom of your screen.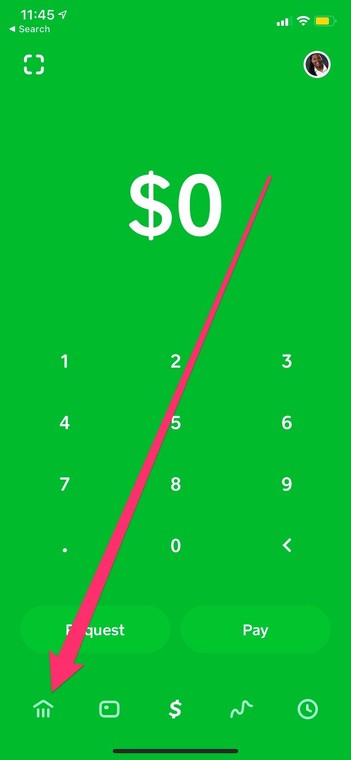 How to add a debit card to Cash App
Taylor Lyles/Business Insider
3. On the "My Cash" page, click "+ Add Credit Card."
How to add a debit card to Cash App
Taylor Lyles/Business Insider
4. After you tap "+ Add Credit Card," a new page will open up where you will enter your card number. After you enter in all of your card information, click "Add Card" to add it to your Cash App account.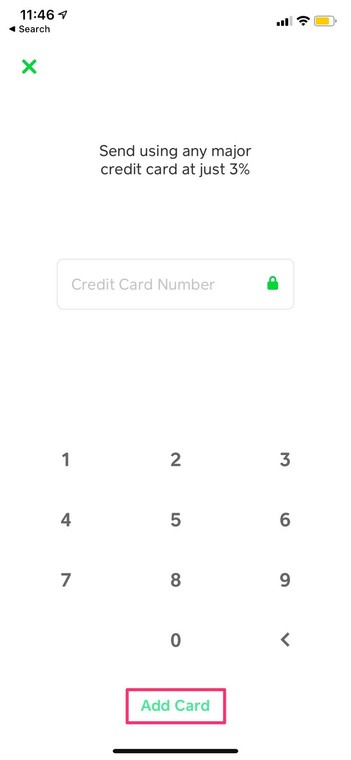 How to add a debit card to Cash App
How to Send Money from Cash App by sending a request
1. Open Cash App on your iPhone or Android phone.
2. To request money from someone, go to the Cash tab at the bottom center of the screen, enter an amount, then hit "Request" to the left below the keypad.
3. Choose a person (or multiple people) to request money from, either from the list of suggested people or by manually entering their cashtag. You can also add a note, if you'd like, to remind them what it's for. Then tap the green "Request" button in the top right corner of the screen.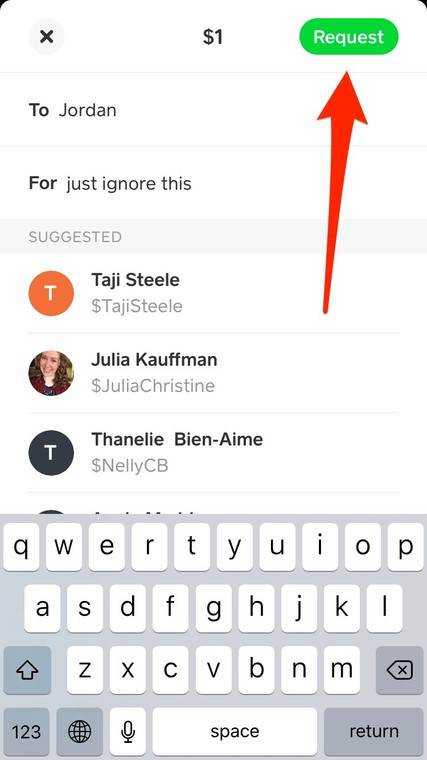 You can also add a note under "For" when sending your request.
How to receive money from Cash App by accepting a payment
People can also pay you on Cash App without receiving a request from you. If you've already received money from this person before, then the payment will automatically be added to your balance.
However, if this is the first time this person has paid you on Cash App, you'll have to manually accept the payment. Here's how:
1. Go to the Activity tab that's the clock icon at the bottom right corner of the screen.
2. Under the Pending tab at the top of the screen, you'll see any requests you've made that others haven't completed. You may also see pending payments with a green "Accept" button next to them. These are payments from users who have never connected with you before. To accept and receive the money they sent, simply tap "Accept."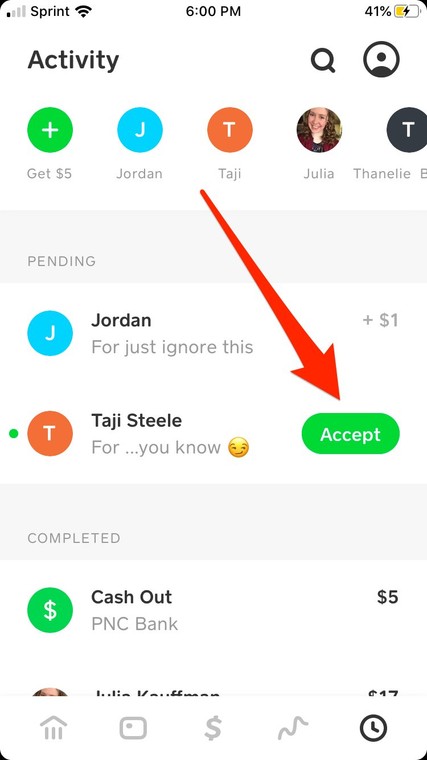 Melanie Weir/Business Insider
3. Once you hit accept, a pop-up on your screen will ask you to confirm that you would like to receive payment from this person. Tap "Confirm" at the bottom of the screen, then tap "Done."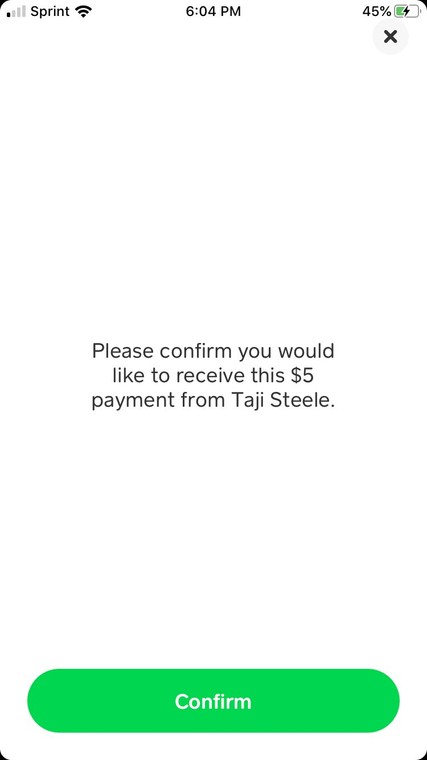 Melanie Weir/Business Insider
If this person sends you money again in the future, you will not need to confirm the payment or take any action it will be automatically deposited to your Cash App account.
Pros and cons of Cash App
Cash App may be a way to send and receive payments outside of your bank account, especially after you've established your Cash App balance. But weigh transactions on the go against potential drawbacks.
Pros
Send money to friends with a phone number or email.

Buy and sell Bitcoin directly from your Cash App balance.

Security features include a PIN login, face and fingerprint ID, encryption and offline Bitcoin storage.
Cons
Limited transparency when it comes to other transactions using the app.

You must pay a 1.5% fee to get money cashed out instantly.

You can't make payments internationally.

You must verify your account to increase your send and receiving limits.
Cash App regulation, reviews and complaints
Cash App hasn't garnered a good reputation on Trustpilot: It earns one star out of five from more than 700 users. Most complaints revolve around poor customer support, closed accounts without warning or without providing a reason. Some users claim they never received their payments.
Forums like Reddit reveal similar issues. Recent complaints include lacking customer support, declined transactions with limited details and sudden closures of Cash App accounts — one while waiting for a Bitcoin transaction.
also read Clickbank review: all you need to know about Clickbank affiliate network
Final Note on Cash App Review
If you have an Android device, or simply want a payment app that's hardware neutral, Square's Cash app works great. One downside to Square Cash is that it charges a 1.5 percent fee to instantly transfer a payment to your bank account However cash app is straightforward compared to other peer to peer apps like Venmo, zelle, coinbase etc.
Cash App features such as managing your bitcoins(if your into buying and selling of bitcoins), Cash app allows you do it from your Cash App balance and so on.
you can check them out.