In this article, we took our time to select top 7 apps you can use to Make Money Online In Nigeria, these apps might require you to do some little tasks to earn a bonus, points or commission as the case may be, kindly read through the downsides as well.
1. BUZZBREAK
What is BUZZBREAK?
BUZZBREAK is an awesome app to Make Money Online In Nigeria for reading  reading breaking news from popular newspapers and magazines such as
CNBC
Business Insider
Al Jazeera, Forbes
The New York Times
Rappler
And other reputable sources depending on your country.
etc. It merge them together into a small wonderful package for its users.
You can filter the content based on 6 interests: News, sports, entertainment, lifestyle, technology, and business.
BuzzBreak also allows you to make money while watching entertaining videos.
The app is very easy to use and doesn't require any effort, except tapping on the yellow button every 30 seconds to claim points.
BuzzBreak app was launched in 2018 and has been downloaded over 1 million times so far!
Is BuzzBreak app legit?
Yes Buzzbreak is a legit app, that has a minimum payout of $0.02.
Pros And Cons of Buzzbreak app
Pros
No effort required.
It's a very informative and addictive app.
Read the news from reliable media outlets.
Get paid via PayPal or Gcash.
Sign up using your Google or Facebook account
Cash out with as little as $0.02.
There are no redemption fees.
Cons
Low earning potential, but it adds up.
It consumes a lot of internet data.
You can only claim points 50 times per day.
The app drains the battery of your phone.
There is no FAQ.
It's not available for iOS devices yet.
Sometimes you must watch a video ad to continue using Buzzbreak. The good news is that you may earn some extra points.
How to sign up on Buzzbreak
To get started, download the BUZZBREAK app from Google play store and register.
After successful registration you'd be rewarded with 200 points which is equivalent to $0.002. Once you've got the app up and running, you can begin earning by watching videos or by reading those juicy news articles. There's a yellow button to tap on which gives you 75+ points while taking in those news stories. A referral system is also available for increased earnings as you get 100 points for each referral.
Withdrawals are set to a certain limit. As with many money making apps in Nigeria, there's a minimum withdrawal balance, and the developers at Partko Tech have it set at $0.02 which you can withdraw via PayPal.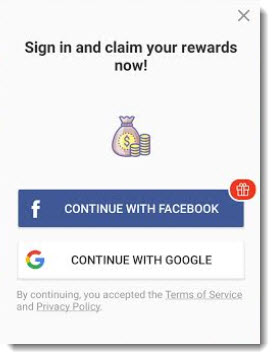 Use a Referral Code 
In addition, Buzzbreak will give you a bonus of 2000 points by entering a referral code.
Users promote their unique code on social media platforms, blogs, and YouTube channels.
You can use a friend's code if he or she invites you to install the app.
Once you join BuzzBreak, you will have your own code to share with others for referral bonuses and commissions.
also read Introduction Guide to Best Affiliate Marketing in Nigeria (2023)
Buzzbreak Points and Rewards 
As I mentioned, Buzzbreak will give you points that you can convert to cash via PayPal or Gcash.
Unlike most reward apps, it has a very low minimum cash out of just $0.02.
You can also cash out $0.10 (100,000 points) or $0.50 (500,000 points).
I advise you to cash out as soon as possible because you don't want to lose a higher amount if there are any issues.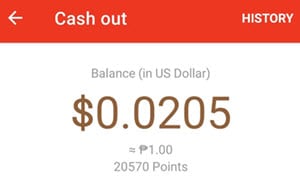 Regardless of your country, you can reach the minimum threshold on your very first day.
Once you request the payment, you can expect to receive the money into your account within 48 hours.
What I like about Buzzbreak is that they will show you the exchange rate between Points and US dollars.
And, if you don't live in the US, they will also show you the cash balance in your currency.
How to Get Points With BuzzBreak
Reading the News
To earn points, all you have to do is browse the articles and tap on the yellow button after 30 seconds.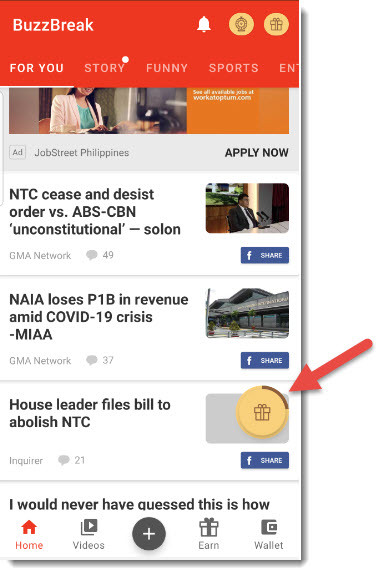 You don't have to read any article if you don't want to.
Your only job is to browse the news feed or article so that the brown line around the yellow button moves clockwise.
Yep! The line will stop if you stop scrolling up or down.
Once this brown line reaches a full circle, you can claim your points by tapping on the button.
If you are reading an article, there is an extra step which comprises scrolling to the bottom of the page to see an ad.
You will earn 150 points for browsing the news feed and 300 points for reading the article.
Watch Videos
You can also earn points by watching funny videos pretty much in the same way.
 As you scroll down, the videos will play automatically and the brown line will move clockwise.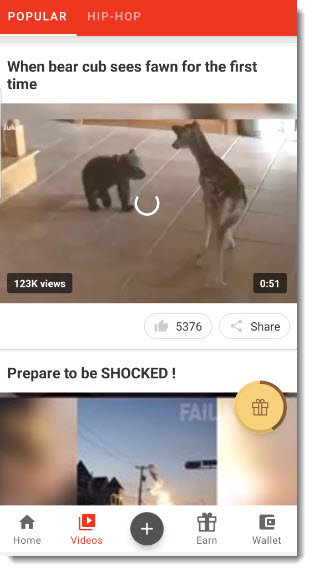 Check-In
Every day, you will earn a check-in bonus that gets higher and higher when you use Buzzbreak for up to 7 consecutive days.
If you check-in during 7 consecutive days, you will earn an extra 9700 points plus a day of double reward.
Free Points (Offers)
Many people don't know they can also earn free points by completing third-party offers.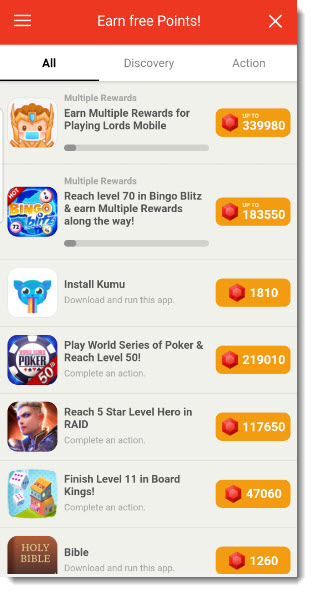 You can find these offers by selecting "Free points" in the Gift or Wallet section.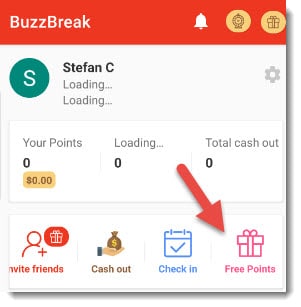 For example, you can earn hundreds of thousands of points by downloading and playing mobile games.
The typical offer requires that you download the app and achieve some milestones in the game. Here is one example: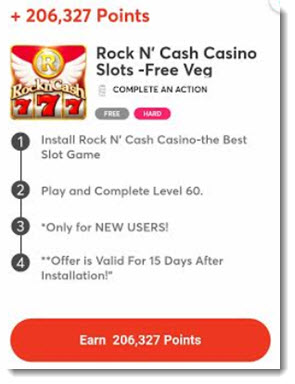 Be sure to do your due diligence when completing trial offers, especially the ones that require your credit card details.
Always read the terms and conditions and keep track of everything!
You will also have the chance to take part in marketing research studies and get paid for your opinions.
There are different survey routers that will match you with survey opportunities based on some profiling questions.
also read How to make Money Online in Nigeria with these Top 23 Online Business Ideas
Invite Friends
Another way to make money by inviting your friends to install BuzzBreak and ask them to insert your referral code.
You can find your referral code in the "wallet" section.
You will earn 27,000 points for each friend that installs Buzzbreak and enters your code.
In addition, you will get a 20% share of all your friends ' earning and 10 tickets to spin the lucky wheel.
Inside the "Invite friends" tab, you can tap the share buttons to promote your code via Facebook, Whatsapp SMS, messenger, or another social media platform.
It's great to earn passive income with referrals!
However, the low rates of pay mean that you will need thousands of active referrals to earn something meaningful.
More Points! 
If you need more easy points, head to the wallet, complete these tasks:
Share Buzzbreak with your Whatsapp or Messenger groups. It has to be a group of over 50 people – +10,000 points.
Follow BuzzBreak on Facebook: +3,000 points. 
Follow BuzzBreak on Messenger: +1,000 points.
Connect your Facebook account: +1,000 points.
Where is the Money Comming From?
Note that you will see lots of ads while browsing the app for news and videos.
When you tap on your wallet or another app feature, you may also see a video ad for a few seconds.
Well, Buzzbreak is getting paid by advertisers and sharing part of their ad revenue with users. It's that simple!
That explains how BuzzBreak can afford to run as a business and reward you as a member.
How Much Money Can You Earn With BuzzBreak?
The quick answer is, very little! 
You cannot earn a lot of money because you can only claim free points 50 times per day.
The best strategy is to claim your points when you are reading an article instead of browsing the feed.
So, instead of earning 150 points, you will get 300 points every time you tap on the yellow button.
Still, that's only 15,000 points or $0.015 per day! 
According to my calculations, you may have to spend half an hour to earn $0.015 worth of points.
On top of that, we have to take into account the check-in bonuses, which will give you an extra 9700 points per week. That's still less than 1 cent per week!
I think it's very discouraging for those who are using BuzzBreak app just for the money.
Without completing offers or inviting hundreds of people, you should not expect to earn more than $6 in one year. 
also read Make Money Online Selling Longrich Products in Nigeria 2023
2. GoMoney
Gomoney is another means to Make Money Online In Nigeria, but what actually is GoMoney?
GoMoney was launched to cater for the financial management needs of its user. It's more like a banking app which you can use for making bill payments, sending and receiving money, buy data/airtime etc.
How will I make money from GoMoney app when all you do is spending money? You can simply earn money from this app by its "Referral system".
GoMoney has got a nice referral system which rewards you whenever you invite your friends and family members to join you in using the apps, and by doing so, you're going to earn some bucks.
For each referral to GoMoney, you get 50% of any money they deposit—this can be done in several ways.
Lastly, withdrawals go straight into your bank account, all you need to do click on "Send Payment", input you bank account details and viola, the money goes straight into the account.
3. Scoopers News (formerly Eaglee)
This is a lightweight (5MB) news app that tailors news stories according to your location and preferences. It's quite similar to the BUZZBREAK app in terms of structure.
The difference is, the news provided by Scoopers focus around the African continent.
With Scooper you can Make Money Online In Nigeria using your smartphone, Scooper is rated as one of the best money making apps in Nigeria and I know some of you might have been using it already especially, if you have HiOS launcher on your smartphone.
Installing the app gives you nothing (sorry for that), you earn 5 points by reading a news article. You can't read above 30 articles per day, therefore you could earn up to 150 points daily.
That's not the only way you can earn, when someone installs the app via your referral link, you get an instant reward of 200 points. Furthermore, if any of your referrals refers someone else, you get 5 points when they install the app.
When it comes to withdrawal, it pretty easy as your money goes directly to your bank account although the process may take between 72 hours to be completed
4. FOAP
Foap was created in 2012 by a team in Sweden.
Foap allows you to sell beautiful photos and make money while doing so.
You could sell to popular brands like Getty Images.It is simple and easy to use. You only need to upload the photos and videos on the app to start earning money. To start using Foap immediately, you need to download the app and register.
You can register within a few clicks by using your Facebook account or through your email.
You can head over to foap.com, but that is the website where you can buy the photos online. The Foap app is where you need to be for uploading, either from the Apple iTunes store or google play.
One thing i love about the app is that Foap has a large community of users that give immediate feedback to your photos. You'll know right away if they suck. You can create a large following for your photos and learn what kind of photos actually sell.
How Does Foap Work?
to start Making Money Online In Nigeria with Foap you need to download the app for iPhone or Android smartphones and register. If you have Facebook or an Email (who doesn't), then you can do so in a matter of seconds.
It takes your profile image from Facebook and adds your name. You need to input your location and date of birth to continue. Once you do, you are ready to go.
Uploading an image is also easy peasy lemon squeezy. You click on the camera icon at the bottom, and it will pull any image you ask from your camera roll.
While it is loading, you get to add a title and then suggested keywords. You select from ones it believes fit your image, and you can add more if you don't see ones you would like.
By clicking 'Publish' in the top corner brings you to a very short legal page. The two questions are 'Are there any people in your image?' and 'Are the faces in this photo recognisable?'
As long as there are no recognisable people, you won't need a photo or model release contract. And that's it! You image is published.
To get paid, you need to first sell your images. Once you do, you'll get notified. You will need a PayPal account to receive the money, which they will send you each month.
You will need to claim it before the 15th of that month. If not, you'll get it the following month.
Advantages of Foap
50% Commission – Foap sells your images for you, giving you 50% of the commission. This is better than the majority of the larger stock photography websites.
$100 for Foap Missions/Contests – The payout for missions and contests is $100. This is much higher (even if you don't know how much money the company is making).
Smartphone App – Everything is done through the smartphone app. This makes it easy and accessible for all sort of photographers.
Free to Register – It is free to register and sell your images online.
Doesn't Require DSLR images – Many stock photography websites require a certain level of resolution. This is usually limited images to those from DSLR. Here, the min is 1280 x 960 pixels. This means you can use iPhone images.
Disadvantages of Foap
Monthly Payments – The payments are made each month. It can be a hassle to wait for your money. Especially if you forget the 15th of the month deadline for requesting payment.
Need Smartphone App – You definitely need the smartphone app to upload images. This might not be cost-effective for the older generation of photographers. Or those without smartphones.
No Rating with the BBB – Currently, there is no rating with the Better Business Bureau. You can't be sure if their business operations are considered safe and correct.
Can't Upload Multiple Images – You can't upload more than one image at a time. This makes the process slow and painful.
Lots of Competiton – There are a lot of users here. It is attractive for other users to downvote your images to cut out their competition.
5. Carry1st Trivia
In our conventional system of education, you pay your tuition which qualifies you for learning and taking exams. Apart from good grades, you get nothing else in return.
But will you like to get paid for answering questions?
The Carry1st Trivia app offers you an opportunity to answer multiple choice questions and earn by answering them correctly. The questions are pretty much easy, you also get to learn about fun facts.
Carry1st is a trusted and one of the best apps to make money online in Nigeria.
How Carry1st Live Trivia App In Nigeria Works
Cary1st trivia app in Nigeria works in the following ways:
Go to Google play store with your internet connected device.
Download and install Carry1st trivia app.
Create an account and sign in to the platform.
Participate as a contestant in a live, worldwide trivia game show.
Answer correctly and earn cash rewards for the most correct answers.
Is Carry1st Trivia Legit?
yes it is a legitimate app.
How To Make Money From Carry1st Tried App Game in Nigeria
Here are the following ways one can earn with carry1st live trivia app in Nigeria:
Download and install the carry1st live trivia app from Google play store.
Login with your details or sign up if you haven't done that.
Watch out for notifications for game time.
Answer multiple choice questions on a range of topics.
Use your knowledge/brain to get the highest score.
Earn rewards/cash prizes for the most correct answers.
If you answered any questions incorrectly, you can earn a DASH through inviting your friends to participate in the event.
Note
You can play practice mode to sharpen your brain.
6. InstaNaira
With InstaNaira you're not bored by doing one thing all day as you could watch music videos, Nollywood movies, comedy skits are more. You earn cash and airtime by simply doing these things. You can also earn by reading news stories which are posted daily.
Opening the app each day earns you cash and you can earn more by utilizing the referral system. Looking for an app to make money in Nigeria? InstaNaira has got you covered.
How to make money on instanaira
Watching Videos: As i had mentioned above, all you need to do is watch videos from the app. These videos are just some short ones (clips), maybe 25 seconds or less. You earn 2 points for each completely watched video. Also, there are 3 video sections you can select from, but, videos are always available for you in the sponsored videos section.
Referring Friends: This is a great option to earn on instanaira. You earn 50 points for each user that enters your referral ID as their referral code. Your referral ID can be located in the refer and earn section on the app.
You can refer as many users as you can. But, there is a rule that the amount earned via referral income for withdrawal eligibility must contain at least half earned from watching videos.
Your referral gets 50 points also when they signup with your ID, so always encourage them to use your referral ID.
Also, sponsored videos are always available for viewing. Whenever you finish watching one, another is available in seconds.
How To Redeem My Points For Cash Prices?
After you have reached your preferred cash price threshold, you can visit the Withdraw tab on the app. There are different redeem options for you to choose.
Airtime Redeem:
1000 Points = #300
2000 Points = #600
4000 Points = #1300
Bank Transfer:
8000 Points = #2600
10000 Points = #3300
18000 Points = #10000
PayPal:
20000 = $30
So, Is instanaira legit?
YES. Very legit as i am using and also redeemed my points for airtime. Below is a screenshot of my redeemed airtime transferred into my cellular network (MTN) worth  #300.
7. SellApp.me
The SellApp.me app give you a platform to sell and buy online. With the app you can easily connect with other buyers and sellers which to sell their goods online. Individual entrepreneurs aren't left out as they too can take advantage of these awesome app.
You could buy/sell products ranging from cars, smartphones, electronic appliances, furniture items, fashion and beauty products, and home. This puts money in your pocket as a seller on this platform which has no hidden charges, no upfront payments etc.
How do I get to start earning on SellApp.me?
Simply visit your app store to download and install the app, once done you can sign up with your Google or Facebook account. Take a picture of what you intend selling, upload and wait for buyers. This is more like a mobile e-commerce store for individuals.