What is XOXO Smart Contract
XOXO Smart Contract  is a ultimate decentralized P2P global powerline networking system, built on an ethereum blockchain technology (smart contracts).The network was launched on May 21,2020. There are no contract details about the admin of the XOXO Network. As by the description of the network the entire system works based on the powerline autopool system. The system claims there will be no human interaction, so there will be no chance for any humans to steal the crypto earning's of a member.
What is meant by the powerline autopool system ?
Which means the member registration will be done one after another, that is the network joining methodology will be done in a chronological order. So, it is very clear that XOXO is not a binary MLM, but it is a Unilevel MLM, or single structure whereas the FCFS(First Come First Served) protocol is used.  So, new users will be placed under the previously joined users based on transaction time stamp.
What are the XOXO Network's features?
In general, the XOXO Network is praised for its "simple, secure and lucrative" system. By choosing Ethereum as their network, the team affirms that members are provided with a smart contract that is secure and stable. Other notable features include:
Limited chances of hacks and/or scams, hence risks are minimized
Unlimited referral bonus
Seven different global autopools to choose from
Un-erasable and un-cheatable
Instant payouts
How does the XOXO Global Powerline Networking System work?
Members are required to download the METAMASK WALLET to their Chrome browser. Should one feel more comfortable using their respective smart mobiles, then the TRUST WALLET should be downloaded. This supports both Android and iOS users.
To register for Autopool 1, it is mandatory that one funds their respective wallets with 0.1 ETH. This entry amount is paid to previously joined members according to the smart contract protocols and this process applies up to four levels. To join Autopool 1, one direct referral is necessary. For Autopools 2 to 7, no direct referrals are needed.
Is XOXO Smart Contract Legit?
Yes XOXO is a legit Smart contract because it is handled by the Ethereum blockchain. However it is not reliable hence we do not advice people to borrow money and into smart contracts like this.
also read Rapido Run Smart Contract Prelaunch (2020)
How does XOXO Smart Contract Work?
Every existing user in this system gets paid from every new member and by automatic re-entries on Autopool 2 to 7. Once a member earned and cycled out of one Autopool, part of the earnings is paid back into the same Autopool so that consistent income is generated.
Hence, the profit-generating potential rests in the latter few pools. As per the XOXO network, this is a way to make passive income. As for the aforementioned four levels, the profits that could be generated under Autopool 1 are as follows:
For all level 1 referrals: 50% or 0.05 ETH
For all level 2 referrals: 25% or 0.025 ETH
For all level 3 referrals: 15% or 0.015 ETH
For all level 4 referrals: 10% or 0.010 ETH
Here is a closer look at how this network operates: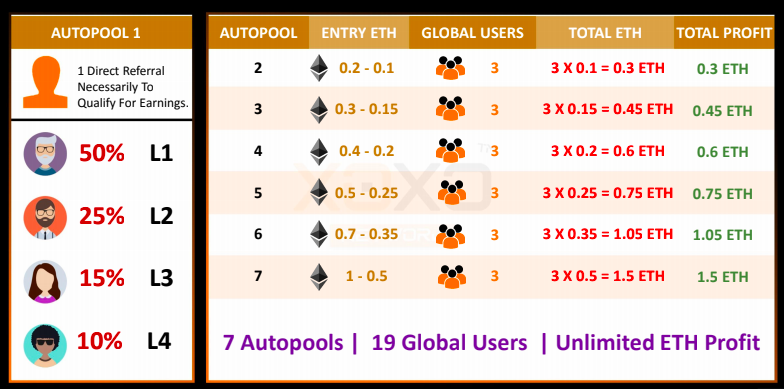 For example, if a member brings in 5 people, then he/she makes a 50% profit. For each new member, they have to recruit one other member. So, when the five people each bring in 5 other people, the member who made 50% off of the first level, will in addition make 25% off of the second level. For every level fulfilled (up to four levels), profit is generated. Ultimately, by bringing one person the downline is expected to expand and the original member will make money off of each member.
also read LionShare Smart Contract: How to Make Money With LionShare
Once the one person is brought to the system, members will be able to join pools 2 to 7. The only difference now is in the entry fees. If Autopool 2 was chosen, then a fee of 0.2 ETH must be paid. 50% of 0.2 ETH is paid to the sponsor. Then, for every member joined under the main person, 0.1ETH will be paid out.
The reasons why this kind of cryptocurrency mlm to prefer smart contracts are, 
Smart contracts can make a copy of transactions.
Smart contracts automate fund transactions.
Smart contracts can hold funds.
Smart contracts can't be modified or hacked.
Smart contract can bring tamper proof security for a decentralized application.
Smart contracts avoid scams, since the money is not holded in a centralized storage.
Smart contracts can make decentralized P2P transactions.
These rock solid reasons made cryptocurrency mlm's, to choose smart contracts as their security guard. Hence XOXO Networks also preferred to  work based on ethereum smart contracts, just like forsage.io and million.money.
Okay now, we got an idea why they use ethereum smart contracts, let us see how XOXO network works and how they differ from the other Million.Money and Forsage.io.
7 Global Auto Pool System: 
XOXO networks follow an autopool system, There are 7 auto pools inside the system. Whereas the users can start to earn from any of the autoppols from 1 to 7. But to enter the autopool 2 to 7 one should complete the cycle on autopool 1
Powerline:
Since it is a powerline system, it follows a globally one-line structure (single line), so the new users will be placed under the previous users, and the new users have to pay an entry amount to the previously joined user or their referrer. The transaction will be done directly from user wallet to user wallet. That's why we called it the P2P Network. As said above the user placement will be done based on the timestamp of their entry transaction.
Timestamp:
It is a blockchain measure, which is recorded by ethereum blockchain to keep track of the completed time of each transaction.
Entry Protocols and Fee on Each Auto Pools
Entry For Autopool 1:
To Start earning ETH from XOXO network, one should enter the autopool 1. To earn from Autopool 1 one should invite or refer a user. When you join by the referral of previous user then your registration feel will be distributed to upto 4 levels of the previous joined users as below.
Registration Fee : 0.1 ETH
Level 1 : ( The one Who joined before you or referred you ) Gets 50% commission that is 0.5ETH
Level 2: Gets 25% commission that is 0.25 ETH
Level 3: Gets 15% Commission that is 0.15 ETH
Level 4 : Gets 10% Commission that is 0.10 ETH
A Cycle will be completed in autopool1 when 3 members join below you and you will recover the registered fee at the end of the cycle.
Entry For Autopool 2: Here there is no need for direct referral you can directly join from auto pool to autopool 7. You can earn 0.30 ETH to 1.5 ETH just by referring, only three global users in any of the autopool. Auto pool 2 to 7 doesn't require any referral, your 1 direct referral required on autopool 1 gets qualified to participate on any autotools 2 to 7.
Registration Fee : 0.1 ETH 
To enter autopool 2 you should complete a cycle on auto pool 1.
All Pools Profit Protocols :
The Pool entry fee, and other profit protocols are written in smart contract. In autopool 2 to 7  50% of commission will be paid to the sponsor or referrer. Once a member earns and cycles out from a particular autopool,  part of his earnings will be reinvested to the system to earn more passive income, and to keep constantly moving the autopool.
Hope you are not getting it. Your cycle will be completed in autopool 2 when you refer 3 people and earn 0.3 ETH, and you will be moved to autopool 3 where the joining fee will be 0.15 ETH which is 50% of the previous earning in auto pool, and while completing a cycle by joining 3 members below you you will earn 0.45 ETH as profit.
At all autoppols the commission will be distributed upto 4 levels of the previous users as below.
LEVEL 1 :50%
LEVEL 2: 25%
LEVEL 3: 15%
LEVEL 4 :10%
Everything will be written on the smart contract.
The Network claims " There is No Fat Cats, on Top".
also read How to Make Money Online with Wakanow Affiliate Program
XOXO Network Features and Benefits
Unstoppable Protocol
Requires Only 0.1 ETH To Start
No Admin
100% Decentralized
Un-erasable and uncheatable
100% transparent
P2P Payment System
No Scams/ No Hacks
No Risks And High Returns
Unlimited Referral Commissions
Can Earn Unlimited Ethereum
07 Global Auto Pools.
also read Million Money Review: is Million Money Legit or Scam
How To Join Or Register In XOXO Network ?
To Join XOXO Network the company recommends to download Metamask for Desktop users, and Trustwallet for Mobile devices. After downloading the wallet, it is required to have 0.1 ETH in your ethereum wallet so you should  add 0.1ETH to your ethereum wallet.
Step 1: Download Meta Mask or Trust Wallet
Step 2: Add ETH to Meta mask or Trust Wallet ( How to Add ETH In Meta Mask  )
Step 3: Click the referral link sent by your referrer
Step 4: Then select Dapps
Step 5: Paste link in browser
Step 6: Click Done
Step 7: Click Register
also read Gram Free Review: How to make money online On Gram free
FAQ About XOXO Network Cryptocurrency MLM Scheme
Here is a quick recap summary about the pressing questions for XOXO Network:
Q: When did XOXO Network Launch?
A: The official launch date for XOXO Network is May 20, 2020 and is set to go live at 8PM ET or 5PM PT. It is unclear who or what is actually jumpstarting the global powerline autopool structure given there is no official admin or standing company but somehow the collective community all seem to have agreed upon this exact date and time.
Q: Who's Behind XOXO Network?
A: It's unclear who's behind XOXO Network or what their experience is. They appear to be non-native English speakers, as the website and whitepaper are filled with errors. We have no contact information for the creators, nor can we find any social media profiles. XOXO Network has not published its smart contract code online, making it difficult to verify the smart contract works as advertised. Overall, there's no transparency regarding any aspect of XOXO Network, who's running it, or how the smart contract works.
Q: Is it Safe to Join and Sign Up to XOXO Network?
A: The newly-launched XOXO Network is what most investors would consider a high risk high reward multi-level network marketing business opportunity that is based on the Ethereum blockchain using peer to peer smart contract technology. The brief bullet point breakdown of XOXO Network proclaims everyone wins because it is 100% decentralized and transparent.  Additionally, the marketing behind XOXO Network portrays a simple, secure and lucrative platform due to being no company, admin, and is virtually uncheatable due to the unerasable nature of blockchain. Because there is no "single point of failure" narrative being pushed, the XOXO Network affiliate crowd is praising the merits of the platform and claims it is a breathe of fresh air blockchain, networking, and crowdfunding crypto industry.
Final Note on XOXO Smart Contract
XOXO Network is a multilevel marketing scheme built is on Ethereum smart contracts and All payments are handled by smart contracts instead of by company administration based on blockchain distributed ledger technology.
The XOXO Network is simply and less restricted multi-level marketing (MLM) scheme, where profits are generated depending on how many members are present in the down line. Each pool only allows four levels, and for every member in each level the profits generated are 10, 15, 25 and 50% respectively. What makes this program flexible is that in order to get started only one referral code is required. This means that for those who wish to join other pools at some point can do so as long as they've made their way into the first pool.