What is Cyber Cafe ?
Internet Cafe, often called Cyber Cafe, is a place that offers customers hi-speed internet access, other computer services and variety of PC games. It deals with internet time that a customer buys and it can be sold per hour or minute and sometimes longer.
Internet Cafe is the most popular in the world of business people, travelers and tourists, but it also finds good and frequent customers in teenagers and adults who spend a lot of time playing computer games. This place is simply a must for webmail, instant messaging and the best way to keep in touch both in private and professional field.
Cyber Cafe is a place where food and drinks are also usually served.
Cyber Cafe Equipment – Necessary and Additional
Setting up of Internet (Cyber) Cafe and the cost of it depends on a number of client computers and services you plan to offer to your customers.
Major items needed to start a cybercafe business
• Internet connection (ADSL, Cable etc.),
• Client computers,
• Server computer that controls the clients
• Networking hardware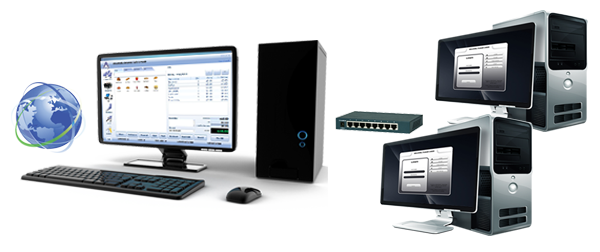 For Cyber Cafes that offers only Internet access office programs there is no need to buy very expensive computers. However, if you attempt to offer computer gaming, it is largely recommended to buy high-end graphic cards and processors.
In the most cases networking hardware is not very expensive, however everything depends on a type of network.If you plan to have wired network type, switch or router, and networking cables will be necessary. If you plan wireless network you will need to have wireless access point or router and wireless network cards for your client computers. Of course, if required, you can make a combination of wired and wireless network.
Cybercafe Business plan and feasibility study
This is very important and contribute a lot to the success of every business. Endeavour to carry out a detailed feasibility study and try your best to understand everything about the business how to run it and what to avoid.
This will also help you in knowing the required capital you'll need to keep the business running and the expected profit in a stated number of years. The feasibility study will help you in drafting down your business plan. Your business plan is very essential as it'll help you bank loans, investors, grants, competitions and more.
 Rent your shop
This will be the next step and it's best to rent a shop in busy parts of your area. Also, the shops should be situated in business oriented areas or near schools and universities as they are highly needed in those areas. The price of shops vary with location but ranges from ₦2,000 to ₦4,000 on the average. The price is determined by the standard of living of the area chosen by you.
 Furnish your shop
After renting the shop, the next line of action will be to furnish to an extent. You can buy some primary things as a start-up and upgrade with time.
Promoting your Business
Every business needs promotion, you can either go for a free or paid promotion on Facebook, Twitter, Google and also organize a "game night" once a week or month on social media platform.
Physical promotion banners can be placed at your country's expressed area. Others are advertising, distributing hand bills.
Don't forget the mouth-mouth promotion too, tell your prospective friends mainly adults, schools, churches, hospitals, pharmacist. Offering much discount in this mouth-mouth promotions is kind of weird. So be careful.
Employments
Do you need more people in your business, this is important tho. But at first, you really don't need one. Unless, it is a Partnership business, where your partner can also stay with you.
At the beginning of opening a MINI Cyber Cafe, I'd prefer no employees but after some few weeks/month and you start getting more customers, then you can opt in for one or two, depending on your budgets.
Equipment needed to start an cyber cafe
• Tables and chairs: Your customers and staff will have to sit down while using the computers or carrying out their duties. Depending on your budget,you can go for the plastic seats and maybe upgrade to the classic furniture later. As for the tables, you can contact any good carpenter to construct them for you.
• Generators: Due to the epileptic state of the Nigerian electricity, power generating sets are very necessary for the running of your business. Since you'll b powering many different equipment, it'll be better to get a good generator that can carry all the computer sets, air conditions, peripherals and more.
• Air conditioners: Air conditioning units are important as they ensure the comfort of your customers and also help in cooling the computer sets. If you don't have enough money, you can even decide to go for the second-hand air conditions as they are cheaper.
• Uninterrupted power supply (UPS): Inasmuch as you have an alternative power source having an uninterrupted power supply will also help your business very well. Your customers won't have to bother about losing their works in case of power failure or something of that nature.
– Source for personal computers
This is the computers your customers will be using and should be of good standards. No on likes working with faulty or slow systems especially when your time is reading.
Some features your computers should possess include:
• At least 320 gig hard drive
• Computers of 2 gig RAM or above
• Processors that are either Celeron (the lowest tier x86 family offered by Intel), dual core, quad core, core i3, core i5 or core i7
• 100 Mbps minimum network card
• Monitor of at least 15″
• Working USB ports
• Standard English keyboard
You an also include the following peripherals to ensure the utmost satisfaction of your customers:
• USB cables
• UPS units
• Speakers/headphones
• Webcams
also read 10 Importance of business rebranding
Source for your serving computers
The stated features are for your clients' computers, the serving system should have the same features or even higher. A good serving computer should be equipped with the following programs:
• Basic operating system like Windows 7, 8, 8.1 or 10
• Microsoft office packages
• PDF reader
• Anti virus and anti malware
• Standard browsers like Google Chrome, Moxilla Fire Fox, UC Browser and Opera Mini
• Quicktime
• Winzip, etc
These software are very essential to ensure your customers' satisfaction and the smooth flow of your business. Many computers come with many of the listed programs  come as default software in many computers.
– Get your internet server package (ISP)
There are many different mobile service that you can us and your choice should depend on your location and budget. Many of them work well in different locations are have competitive prices so you should consider that before making a choice. Make your choice based on reviews from other cyber cafe owners.
also read How to start a profitable snail farming business in Nigeria
Benefits and Challenges of Cybercafe business
Privacy
The biggest concern for most PC users is privacy. Wi-Fi hotspots in most public areas are unsecured, which means that others could potentially access information on your computer. If you forget to log out of a public computer terminal, someone could access your email or other sensitive accounts. On a physical level, the person next to you in an cyber cafe can easily look over your shoulder. cyber cafes or public terminals are not ideal for sensitive or work-related information.
Performance
cyber cafes geared toward gaming have high-performance computers. Most PC games have much higher requirements than the average personal computer. If you play the game at an cyber cafe, you will enjoy the game at its full optimization without the burdensome cost of buying a special gaming PC. The Internet speed at gaming cafes is also much faster than the average home Internet speed, which reduces lag and timeouts from interrupted Internet connections.
Cost
The cost of Internet at cyber cafes is relatively low and varies between countries. Most places charge hourly, though some offer a one-time purchase fee. If you are traveling, purchasing an hour at an cyber cafe to write home is significantly cheaper than paying for a monthly satellite fee. As Wi-Fi grows in abundance, more businesses are offering free Internet access to attract customers.
Comfort and Convenience
Most cyber cafes are not as comfortable as your own home. The cafe could be crowded, smoky or have uncomfortable seats, making it difficult to patronize the cafe for hours on end. Most cyber cafes in the West are not open 24 hours, which limits your time for work or recreation. Downloads might be restricted to preserve bandwidth.
Other Challenges may include:
*. Capital – The cost of starting a business is always on the high side.
*. Staying Connected: Connection matters and fast one also.
*. Socializing: The failure of you as the CEO or your employee not being social to customers will keep them very far from you.
*. Location: Not getting a suitable site for your business is a huge challenge. Don't rent a shop on a non-busy area, it may disturb you drastically.
*. Profit Loss: Listen here, don't ever hope to make huge profit in the first 3months – 5months, as of this time, people aren't familiar with you. Unless, you are near a school, hospitals, church.
*. Hope: Loosing hope in yourself and business and not always punctual to your words and work time, may lead to huge failure. E.g, don't say I'II will be there by 8am and by 9am, you aren't. You are unknowingly chasing customer aware.
CONCLUSION
Choosing to run a cyber cafe business is a wise decision and it has the potentials of yielding good monthly dividends. You can also combine other services like photocopying, lamination, printing of documents and checking of results as your customers will likely need those services.
Also endeavor to have stand-by systems that will replace any faulty ones as they are the most important things in your business. Your systems should be properly covered when not in use and dusted regularly, at least very three months.
You can also set up rules that will guide both your employees and your customers.