Do you know that you Don't need to own a website before you can make money with propeller ads? In this Article we will be talking about various ways on how to Make money on propellerads and how to market your sales. But first, for beginners sake, Let's check out what Propellerads is all about!
PropellerAds  is a UK-based advertising network which has been on existence Since 2011, they have been hence creating avenue in order to bridge the gap between advertisers and publishers. They guarantee to earn 100% traffic for their customers from countries which generates the most of number of CPM namely US, Canada, UK and Australia. They understand the distinct needs of both the advertisers and the publishers that's why they have created solutions which is user-friendly and innovative to achieve one goal and that is to advertise easily.
Their advertising platforms are suited for desktop, display, and video to ensure that maximum audience are reached.
This is a very well-known pop and push traffic ad network, and a global traffic source.
Yes, that's right! It works with push, native and pop traffic and it's got tons of traffic for many different GEOs. Affiliates can now run ads with the following ad formats:
Popunder
Push Notifications
Native Ads
Interstitial
But before we move along, let's take a minute to learn some of PropellerAds' story.
PropellerAds was founded back in 2011 and at first it was known as the largest source of Popunder traffic (which it still is, by the way). But the ad network differs from competitors in its continuous development. After that, the Pop, Interstitial, Push Notification and then Native Ads (widgets) appeared – the latest advertising format.
Now it is one of the largest traffic sources known to almost every affiliate. PropellerAds' reach is now more than 3 billion ad impressions per day and 350+ million push subscribers from 195 countries (Fall 2019 stats).
The advertising platform works with all popular verticals: finance, forex, e-commerce, mainstream dating, nutra, sweepstakes, betting, games, gambling, cryptocurrency.
This review is gonna show you some of the amazing things about this platform.
Ready?
Without further delay, let's get to it right away!
Setup
Dashboard.
Campaigns.
Traffic Chart – traffic volumes by ad format, pricing model, countries, os, platforms. Also, it includes "hot" traffic segments with the best prices, low competition & high volumes.
Audiences – here you create audiences for retargeting.
Tracking – set up the conversion tracking.
Finance – your billing history.
Add funds – go here to make a deposit and claim a promo code.
Profile – personal information, password, setting up of recurring payments and notifications, API.
Help center – knowledge base.
Special offers – bonuses from PropellerAds's partners.
Propeller Priority – bonus program.
Feature request – vote, discuss and share ideas about platform improvements.
Live online chat (lower right corner) – a 24/7 online support chat.
Moving on: as pretty much everything else, the tracking setup of PropellerAds is quite straightforward.
On the platform, just hit the "Tracking" option on the left-side menu.
Here you'll find out how to set up conversion tracking easily, an S2S postback and here you'll test conversion tracking.
Nice, ain't it?
You know the drill: you've got the setup in place.
Now, let's go to the actual campaign creation stage!
Campaign Creation
Create a New Campaign
Let's begin with a campaign with Push Notifications ad format.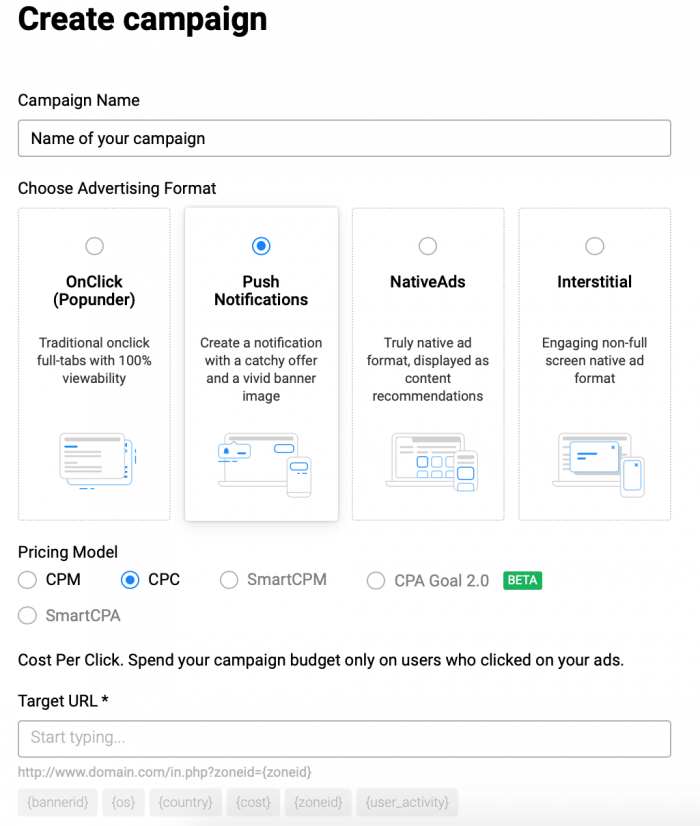 Set the campaign name, choose a pricing model (CPC or CPM) and paste your target URL.
Now the sweet part – creatives.
Add a title (up to 30 symbols)
Description (up to 40 symbols)
2 creatives: icon (192×192) and a big banner image (360×240). Crop it!
Don't forget to preview it on different platforms. Yes, PropellerAds has this option too.
Wanna test several creatives? Pay attention to the unique tool – Smart rotator.
Click on the "+ Add another creative for testing" button and add up to 8 creatives in 1 campaign. Then check the detailed statistics for each creative and spend money only on the best performing ads.
Say NO to manual testing!
Additional Traffic Options & User Activity Targeting
If you need more volumes to enable "All traffic option" if you need traffic from premium websites only enable the second option.
Next – User activity targeting. It's one more unique feature developed by the PropellerAds team.
This targeting divides users into three groups – hot, medium and cold audiences.
"Hot" are new users, who just subscribed to Push Notifications and it's the perfect audience for the testing of new offers.
"Сold" are users who are a bit "tired" of notifications and you'll need to use your creativeness to impress them.
Countries & Bid
The name is pretty self-explanatory.
This is the time for you to set the country (or countries) and cities you're going to target and also your bid. You can include or exclude them.
Here, you can select from preset selections to target worldwide, or only a specific continent, for example.
Also, you can test the new auto-optimization feature – Target CPA. Set the desired price per conversion and the system will disable zones that don't fit your requirements.
Advertising Budget
Your daily and your total campaign budgets.
Nothing more, nothing less.
Campaign Schedule
Another old friend of ours: 
dayparting
. Nothing new to see here.
Targeting
Here's that nice part where you can choose your campaign's specific targeting.
Platform – mobile or desktop.
OS – MAC OS, Android, Windows.
Browser.
Browser language.
Connection type – it can be "All types", 3G/LTE or Wi-Fi/Broadband.
Mobile ISP.
Zone limitation – your white and blacklists. Exclude or include up to 5000 zones.
Audience and Campaign Schedule
On this page, you choose the audience for retargeting or create a new one.
Retargeting – one more cool feature in PropellerAds, that allows you to pay less for traffic.
For example, collect the audience from your Push campaign and then launch retargeting to this audience with Popunder. As a result, you get cheaper clicks.
Another old friend of ours: 
dayparting
. Nothing new to see here.
That's it for campaign creation, guys!
PropellerAds – Traffic Redux
PropellerAds is definitely a solid and one of the biggest traffic sources.
It's got a lot of genuine traffic and a functioning platform, with lots of cool features for affiliates.
If you play your cards right, it converts faster than Ayrton Senna!
The team is open and pleasant in communication. They try to provide quality support to customers and help them in every possible way: chats in Telegram, social networks with 70K+ subscribers, expert webinars and educational articles, capture the Chinese and Brazilian regions and establish partnerships with leading market players.
PropellerAds: Offers & Verticals
Ad Types: Push Notifications, Native Ads, Popunder, Interstitial.
Cost Model(s): CPM, CPC, CPA Goal, SmartCPM, Smart CPA.
Verticals: Finance, Mainstream Dating, Sweepstakes, eCommerce, Games, Gambling, Betting, Nutra, Crypto.
PropellerAds: Payment & Investment
Minimum Deposit: $100 for credit cards and $1000 for Wire Transfers
Funding Methods: Debit/Credit Cards (Visa/Mastercard), UnionPay, PayPal, ePayments, American Express, Webmoney, Skrill and Wire Transfers.
PropellerAds: Support
Personal Account Manager: For Platinum advertisers only (check Propeller Priority tab for details).
Support Response Speed: Good.
Support Rating: Good.
Contact Methods:  Online live chat 24/7 in ad account.
Make Money On PropellerAds Without a Website
you can make alot of money from PropellerAds without owning a website, through the PropellerAds Referral Program and the Banner.
All you have to do is
Click menu, Select Referral Program, copy your referral link and share with your friends on Facebook, WhatsApp and other platforms.
you earn when they start making money on Propellerads, you get 10-50% of their daily,weekly and monthly income