You Must have been wondering why One should invest in TRON Crypto Network, It came to the market in 2017 following an initial coin offering in August 2017 and in under a year has grown to become the 10th biggest cryptocurrency by market capitalisation, we are going to be discussing why you should invest in TRON but let's check out a brief history, Price Prediction and Other Analysis on How you can invest In TRON Cryptocurrency.
What is Tron ?
Tron (TRX) is a blockchain-based decentralized platform that aims to build a free, global digital content entertainment system with distributed storage technology, and allows easy and cost-effective sharing of digital content.
Tron was founded in September 2017 by a Singapore based non-profit organization called the Tron Foundation. It is headed by CEO Justin Sun and has a dedicated in-house development team that includes renowned technology stalwarts. This article explores the Tron network, its workings, and its cryptocurrency Tronix (TRX).
What Is Tronix (TRX)?
The Tron network uses its cryptocurrency called Tronix (TRX).
One can purchase Tronix on exchanges like Liqui and Binance by exchanging them for other cryptocurrencies like ETH or BTC. Purchase with fiat currencies is not possible at present. It can be stored on wallets that support the Ethereum blockchain like MyEtherWallet.
The TRON Foundation
The TRON Foundation is an organisation based in Singapore. Dubbing itself the "industrial force" of all Southeast Asia, the Foundation supports TRON's development team and participates in its open, honest and transparent cryptocurrency network. Regulation and compliance are the core values for the team behind the TRON Foundation. The Foundation has been approved by the Singapore Registrar of Companies (the Accounting and Corporate Regulatory Authority under the Ministry of Finance).
The young leader of the company, Justin Sun, has achieved remarkable feats. First, he created the Peiwo application, which already has 10 million users. Sun made Peiwo the first streaming app to accept cryptocurrency payments. Now, the Peiwo app ranks among the leading members of the online audio content community.
Forbes listed Sun on Asia's 30 Under 30 Top Business Leaders list. He is also a protege of Jack Ma, founder of the Baba Group. Ma chose Sun to study at the prestigious Hupan University. Entry into this university is harder than getting into Princeton.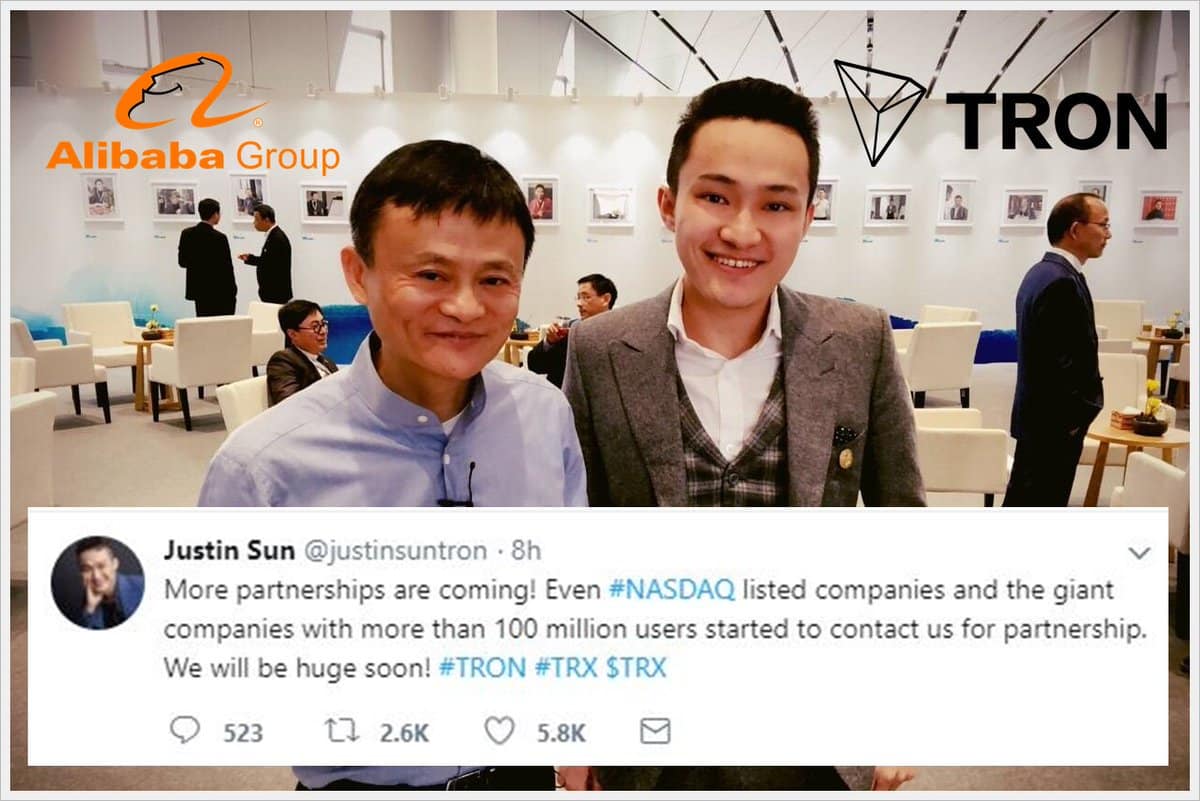 Moreover, Sun graduated from the University of Pennsylvania. Besides Jack Ma, Sun has surrounded himself with even more star mentors. Feng Lee (advisor at Ripple) and Tim Berners-Lee (inventor of the internet) are among them. Sun also worked for Ripple as chief representative and advisor.
The number of key influencers in the crypto industry who predict TRON (TRX) to grow is increasing. This Extensive experience and support allow Sun to get the skills and knowledge needed to run his own cryptocurrency project.
also read Best 7 Apps to Make Money Online In Nigeria
TRX Price History
The analysis and prediction of TRX's price should start with historical data review. TRON is a fairly young cryptocurrency, created in late 2017, and the network was launched in mid-2018.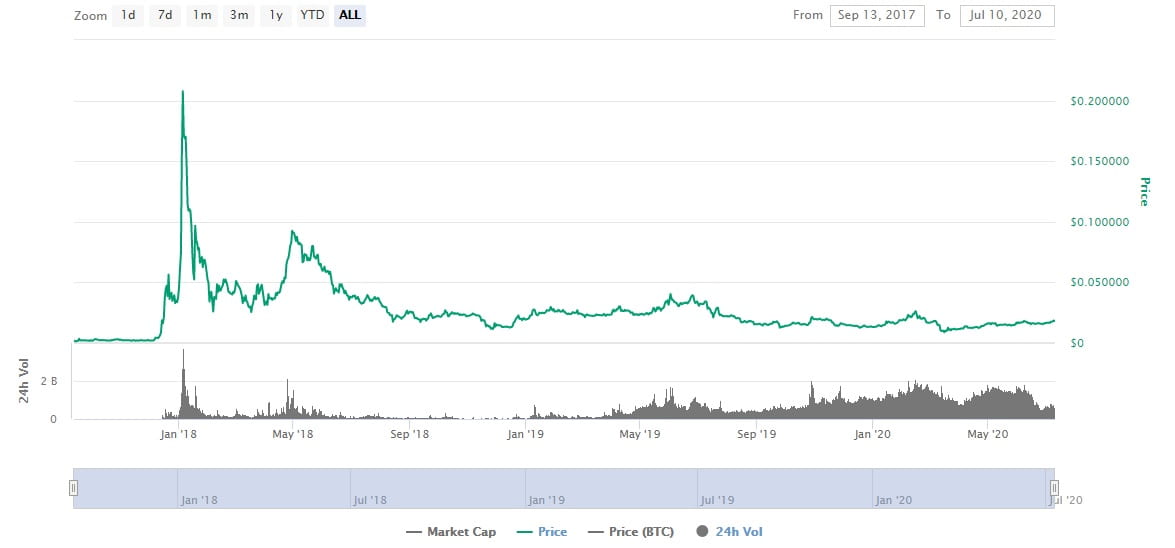 The dynamics of TRON's price:
When created during its ICO phase, the price was $0.002.
After the token was issued, the price rose to $0.05 in December 2017.
The highest price ever reached was $0.30for1 TRON coin in early January 2018.
After some time, the price fell to $0.03-0.04.
In early May, after the network launched, the price soared to $0.08 before falling again.
By the end of November 2018, it reached a low of $0.01.
In June, the price rose to $0.047 and then continued to fall until 2023.
The lowest price TRON reached was on 13 March 2023, when the coin was worth $0.00686.
Today, TRON tradesat $0.0182 per TRX coin. The cryptocurrency has shown strong growth since reaching its low.
TRON (TRX) Price Prediction 2018
Early 2018 was a year of significant growth for all cryptocurrencies, and TRON (TRX) is no exception. TRON's price soared to a record high of $0.30. As the asset's price peaked, bears stepped in and pushed price as low as $0.023. However, the Minenet launch helped TRX surpass $0.10. After that positive event, the rest of the year was bearish for TRON and other altcoins. In 2018, TRON's price fell as low as $0.011.
TRON (TRX) Price Prediction 2019
The performance of TRON's crypto price in the 2019 prediction is similar to that of 2018. Performing well at the beginning of the year, the price increased and touched $0.045 on 26 June 2019. The rest of the year was bearish. TRX's price fell back to its low of $0.011 and remained near that level for the rest of the year.
TRON (TRX) Price Prediction for 2023, 2023, 2025, 2030
The TRX coin is very dependent on the decentralised applications (dApps) market. All price predictions are ultimately based on two other expectations: future financial performance for this market and the likelihood of success for TRON's competitors.
Trading Beasts TRON Price Prediction for 2023, 2023, 2023, 2025, 2030
According to the price prediction from trading Beasts, TRX's price will rise in 2023. The current TRX coin price is $0.0180178, but by the end of 2023, the average price for TRON is expected to be $0.0226342. However, the forecast for the next few years is very stable, and the trading price of TRX is expected to be between $0.018-$0.028.
WalletInvestor TRON Price Prediction for 2023, 2023, 2023, 2025, 2030
WalletInvestor is an AI-based forecasting service. Their TRX charts and future forecasts are somewhat pessimistic. The service does not recommend investing in TRX now. In 2023, it predicts the price to slide to as low as $0.0016. However, in 2023, the price will be as high as $0.022. After reaching that high in 2023-2025, Wallet Investor Predicts A Slow bleed to $0.0016. It's not time to get upset just yet. This service's prediction is the most bearish.
10 REASONS WHY YOU SHOULD HAVE TRON THIS YEAR
100 per cent gain in a year is a great return on investment but any upside above and beyond is unlikely. Tron is still a very small player in the broader cryptocurrency market, holding a 0.44 per cent market share of the total cryptocurrency market cap.
Earlier this year, Tron, Nervos, and Polkadot received a 3.75 score out of 5. investing in Tron TRX is totally worth it. Tron is a decentralised blockchain platform that uses the peer-to-peer network technology. Its main motive is to expand the market of decentralised digital content applications.
Just like the Ethereum Blockchain, it has been observed that TRON, will soon skyrocket very soon.
1. It is owned by Justin Sun, launched on the 13th of September 2017
2. In 2019 Tron bought BitTorrent which have over 100 million users globally and at one point accounted for 30% of all internet traffic worldwide.
3. Tron also acquired the famous blockchain social media company Steemit
4. In 2019 Tron partnered with Samsung to have its apps and Dapp on all their new mobile phones
5. Tron has partnered with Obike in Singapore and has helped them create their native token Okoin and accepts it as payment
6. Tron blockchain is 80 times faster than Ethereum and 667 times faster than bitcoin blockchain
It is over 20times cheaper in transaction fees than both bitcoin and Ethereum.
7. Tron is a Proof of stake coin hence you get rewarded for owning some TRON.
8. TRON is aim is a decentralized internet and has smart contract features
9. TRON works with regular programing language such as python and java which makes it easy for mass adoption for programmers compared to ethereums solidity
10. TRON blockchain offers coin creation features and decentralized apps
How To Invest In TRON
You can't buy TRON directly. Instead, there is a round-about way to purchase TRON. The flow looks like this: Buy BTC through Coinbase then transfer to Binance, where you can buy TRON with your BTC.
There are more exchanges coming in the near future that will allow you to buy TRON. For now, we'll have to use Binance.
Let's walk through the process in detail.

1. Create A Binance Account
The first thing you need to do is setup a Binance account.
Binance is a popular choice because it allows crypto-to-crypto transactions from companies like Coinbase. It's important to note that you can't send money to Binance. You have to go to Coinbase -> Exchange (Binance) -> TRON.
2. Buy Bitcoin or Ether on Coinbase
Once you have a Binance account setup, you need to buy Bitcoin or Ether on Coinbase.
It's very easy to do once you have a Coinbase account setup. You simply go to the Buy/Sell page and enter your information. Then, your Bitcoin will be in your wallet and you can move to step 3.
3. Transfer Your Bitcoin To Binance
Once you have your Bitcoin or Ether in your Coinbase account, you can transfer it over to Binance. This is also fairly easy to do.
In your Binance account, go to your balances then wallets and you can see all the different coins you can hold in your account.
In our case, we're transferring over Bitcoin, so click on Bitcoin, and you'll see a Wallet Address generate. Here's what most look like:
Once you have that address, you go back to Coinbase, choose "Accounts", and then "Send." You'll see this screen come up where you can send your Bitcoin to the address generated in Binance:
4. Buy TRON
Once you have your Bitcoin in your account at Binance, you can finally buy TRON.
In your Binance account, execute the TRON/BTC (or TRON/ETH) exchange.
5. Accumulate TRON Through Smart Contracts
Smart Contracts has always been the best way to accumulate both the ethereum and Tron cryptocurrencies, although they seems Ponzi but there's always a reward for smart ass.
Some Legit Smart Contracts to accumulate TRON Include:
Note: Tokens are withdrawn automatically within a few hours. Minimum withdrawal amounts: 0.1 TRX
there are so many other ways to earn TRON for free however the bad guys are also out there to get their stingy pocket filled, so you need to be careful on which TRON Investment plan you choose. You can message me on whatsapp via (+2348163948163) for more Guidelines.
BOTTOM LINE
The best time to Invest in TRON is now, we saw how the likes of Bitcoin and the Second leading crypto coin "Ethereum went from a 30% in feb 2023 and now they are something else in the market.
One good side of investing in a digital coin early, is that you are able to accumulate enough before it's turning colors, TRON price prediction suggests that the TRON price is up for a long-term 1325.589% in the TRX price value with a 5–year investment. This means that in the year 2023, the TRON Price is forecasted to stand at $0.54. So it's not a bad idea to invest in TRON now.