What is Forsage?
Forsage is a decentralized, Self-Executing Smart Contract Crypto earnings program that was built on the Ethereum Blockchain. Forsage was Launched on February 6, 2023, The application code is programmed to distribute income transfer between participants according to a specific algorithm.
How does Forsage Work?
Forsage works like any pyramid scheme or multilevel marketing company: you pay a fee to join, and that fee gets funneled up the pyramid. The only way to recover your initial investment is to convince a bunch of people to join underneath you.
The end of this type of scheme is not always good.
Is Forsage Legit?
Forsage is a pyramid scheme platform, the genuine and transparent part about forsage is that it has no admin to controls the transactions, The system uses an open source coding pattern which means that anyone who's got knowledge on coding can read the code and see how the system works.this makes forsage legit but not reliable.
also read Million Money Review: is Million Money Legit or Scam
Forsage's Products
Forsage has no retailable products or services, with affiliates only able to market Forsage affiliate membership itself.
Forsage's Compensation Plan
Forsage affiliates purchase 0.05 ETH matrix cycler positions.
Matrix sizes used in Forsage's cycler are 3×1 and 2×2.
A 3×1 matrix is simple in nature, requiring only three positions to be filled.
A 2×2 matrix starts with two positions on the first level, which expand to four positions on the second level: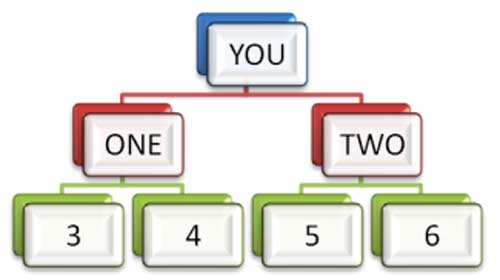 A single 0.05 ETH initial buy in purchases a cycler position in both a 3×1 and 2×2 matrix.
Positions in the matrices are filled via direct and indirect recruitment of Forsage affiliates.
Once all positions in a matrix are filled, a cycle commission is triggered. The position cycling out of the matrix also enters a new matrix of the same size.
Cycle commissions across Forsage's two cycler tiers are as follows:
3×1 matrix (entry is 0.025 ETH of the initial 0.05 ETH buy in) – generates 0.05 ETH in gifting payments and entry into a new 3×1 matrix
2×2 matrix (entry is 0.025 ETH of the initial 0.05 ETH buy in) – generates 0.075 ETH in gifting payments and entry into a new 2×2 matrix
FORSAGE X3 and X4 BREAKDOWN
also read How to Make Money Online with Wakanow Affiliate Program
Using #400 per 1$ rate
Level 1
upgrade fee: 0.025 eth
Profit per refer : (6$ equal 2500 )
Level 2
upgrade fee : 0.5 eth
profit per refer : 12$ equal 5k)
Level 3
upgrade fee : 0.1 eth
profit per refer: (24$ equal 10k)
Level 4
upgrade fee : 0.2 eth
profit per refer : (48$ equal 20k)
Level 5
upgrade fee : 0.4eth
profit per refer: ( 96$ whixh is equal 40k )
Level 6
upgrade fee: 0.8eth
profit per refer: (192$ whixh is equal 80k)
LEVEL 7
upgrade fee: 1.6 eth
profit per refer : ( 384$ which is 160k )
Level 8
upgrade fee : 3.6 eth
profit per refer : ( 768$ which is 320k )
So the process continues like that till level 12 for both X3 AND X4
How to Join Forsage Smart Contract
1. Download The Trust Wallet from Play store or Apple store
Or use this link
https://share.trustwallet.com/614DHLF
2. Install it on your device
3. Open it, and click on create new wallet!
4. Click on the check box below and click on continue
5. Take note of the 12 Phrase and click Next (Put it down somewhere very safe).
6. Re-arrange the 12 phrase and click next!
Your wallet has been created
NOTE:  IPhone users can't use trust crypto wallet rather its coinbase wallet you will download on app store
You can buy 0.055 or $15 of Ethereum from your New Trust Wallet, using your MasterCard/Visa Debit or Credit cards instantly from within your wallet.
Once your wallet is funded scroll to the bottom of your trust wallet and click DAPPS (Android phones) or Browser (iPhones)
Then copy and paste your forsage refferal link on your browser bar and you will be redirected to the Forsage website. Just click on the GREEN button and it will take you to page where you will then click the Green button on register, it will allow you to pay into program (If it's in a different language than you require, just click on English or your other choice of language.
if you have paid, it will then automatically make you a member and if you click the back arrow button you should see your member number in your back office and your referral link that you can share with others!
All you need to do is share with 3 other people and help them to do the same. That's it. If everyone follows this, we will all be successful in this program.
How you earn on Forsage without referring
The system provide two ways for members to enjoy profit on the system via
 spillover : bonuses from uplines and downlines that have gotten enough profit and refusing to upgrade or open another level.. The system distribute this bonuses to X4 group.
 Overflow : bonuses from your upliner when all his slots are full the remaining bonus goes down to his downlines.. This is a means the system use to reward those that can't refer from there uplines effort for referring.
NOTE: FORSAGE IS THE PLATFORM WHILE ETHEREUM IS THE CURRENCY USED FOR TRANSACTIONS ON THE PLATFORM.
also read Make Money Online Selling Longrich Products in Nigeria 2023
FREQUENTLY ASKED QUESTIONS
Q: How much is the Ethereum required for registration in naira?
A: It's usually 0.065-0.07ETH, which fluctuates depending on the network fees and market price of Ethereum at the point of registration.
Q: After registration, what will I do to earn?
A: Follow the strategies that will be given to you in the team. You will be duly mentored and guided
Q: If I don't have referrals, Will I earn?
A: Absolutely, You will earn. But it won't be much. Its usually between 5-20$ but its not fixed or certain.
Q: How do I withdraw my earnings and turn it to cash?
A: You can send to your Luno Ethereum address and convert to cash through the guidance of any of the admin or you sell to a reliable vendor will send you cash swiftly or you can sell it to me.
Q: What is the least of highest Ethereum I can earn?
A: There is no minimum or maximum amount you can earn on Forsage Smart Contract. You can earn as much as 10000 ETH. It all depends on your diligence and hardwork and your use of strategies to grow.
Q: Can I have more than one accounts?
A: Yes, you can.
Q: Will it Crash?
A: Forsage Smart Contract Can Is Predicted to crash when upliners are unable to bring downliners to earn, this is where the earning aspect would begin to fall gradually however forsage Is built on the Blockchain network which is the safest and most secure crypto network in the world.
Q: Will I receive money daily?
A: As long as you earn everyday, you can receive profit everyday. It all depends on your hardwork.
Q: Can I withdraw the same day I Joined?
A: Yes. Depending on how many Ethereum you earn on that day.
Q: If I join today, When will they pay me?
A: You can withdraw your earnings anytime as long as you make profit. This is because all your transactions are done within your wallet and nobody has access to it except you.
Q: Who owns Forsage?
A: Forsage isn't owned by anybody. It is decentralized and as such It is created with an automated contract that offers you maximum security and sustainability. A smart
contract is an automatic execution algorithm. It exists within the Ethereum Blockchain, the number one cryptographic currency among those with which smart contracts can be created.
Q: How many referrals do I need before I can withdraw?
A: As little as 1-3 and you're good to go. Whether you bring in referrals or not, as long as you've earned whether via spillovers or overflows or direct referrals you can always sell your profit but upgrading higher levels gives you more profits.
Q: What is the difference between Forsage and Ethereum?
A: Forsage is a platform you are investing in while Ethereum is the cryptocurrency you're investing with.
Q: How many referrals do I need to open a higher level?
A: It depends on your mode of earning. Your earnings can come without referrals through spillovers and overflows, that way you don't need referrals to upgrade. And if
you refer and earn, you can also open a higher level. You can also buy higher levels with your Ethereum without necessarily earning yet with the aim of having higher earnings
from the X4 baskets on Forsage through spillovers and overflows.
Q: Can I use any other wallet apart from Trust wallet, token pocket and Metamask?
A: No.These are the most compatible wallets for transacting in the Forsage Smart Contract.
Q: If I don't have referrals, how fast or soon will I start earning the spillovers and overflows?
A: It has no specific timeframe. It all depends on the number of transactions within the system.
Q: What if I can only refer 1 or two people, how will I make money?
A: As long as you work as a team, you will always earn and sustainably too. Team work pays in Forsage. You can't do it individually without help from your upline/downline.
Q: How many times can I cash out in a day or week?
A: You can cash out as many times as possible as long as you earn during the day/week.
CONCLUSION
Forsage is an online marketing matrix program created by the people for the people. It's the world's first ever crypto earning program to initiate a self-executing smart contract on the Ethereum Blockchain. The program is part of a globally distributed network of computers, which manage its operation and transactional data.
[Now the money you earn on forsage is in Ethereum which is the second fast rising crypto currency after bitcoin.
Now the Ethereum you earn enter directly to your eth wallet immediately you earn any profit, can be converted  to cash at any given time and the cash as well can be redrawn into your bank account
Forecast predict Ethereum will rise very high by this year end, hence a lot of people are taking advantage of the fast growing cypto coin, However other people see the Forsage Eth gifting scheme as a pyramid which it is anyway but they feel it will crash, well if it crashes early earners eats the biggest cake, the whole point is to gain the second giant cypto coin a recognition before it rises.
Finally the reason why i don't recommend These kinds of MLM schemes for newcomers/latecomers is because it only benefit the top/first comers, and the downline/latercomers who join the pyramid late will be the ones paying commissions to their top member out of their pockets.