WHAT IS LINKEDIN?
As a digital marketer, you must have heard about the LinkedIn platform. the best platform for job seekers, career advice, and innovative and creative entrepreneurs all over the world can be found on Linkedin.
the platform is best known for connecting great developers, tech gurus, and influencers. simply put Linkedin is a Networking Platform.
Anyway let's dig more into this Networking Platform: LinkedIn is a professional networking platform created in the year 2003 for professional development and networking purpose. Linkedin primarily purpose as i said earlier was to serve individual professionals, allowing them to post accomplishments and work histories, as well as upload resumes and other supporting material, it also provides opportunities for businesses to post jobs, showcase new products and services, and networking potential prospects. A messaging feature also provides two-way communication between users.
For businesses, LinkedIn is an effective tool for collaboration, sharing best practices, and targeted marketing efforts. Independent organizations can participate in various groups to expand their network, and executives and business owners can position themselves as thought leaders in their industry.
Below is a thorough roadmap for what you need to know to get established on LinkedIn and make it work for your business. Here you'll learn everything from setting up your business profile to optimizing your professional information to grooming a professional network to target potential prospects through special tools and features.
also read BEST 23 PINTEREST MARKETING TOOLS TO SKYROCKET YOUR PINTEREST REACH
How to use linkedin marketing strategy to promote your business
Start with connections, then build relationships
the first thing that should come to your mind when it comes to Linkedin Marketing Strategy, is that linkedin is a social network for professionals to connect with other professionals. A business owner can, and should, connect with prospects, strategic partners, referral partners and other business owners. And once those connections are made, the business owner can decide how to nurture specific connections to grow the relationship. — Charlene Burke, CEO, Search by Burke, LLC
 Complete Your LinkedIn Business Profile
considering linkedin marketing strategy, your business profile has a major role to play. it can be used to build your brand and promote your products and services to customers and prospects.
How do i set my linkedin profile?
First, click on the "Work" dropdown at the top righthand corner of your homepage and select "Create a Company Page+" from the bottom of the menu.
Upload a logo and banner image for your page.
Post company updates from your page that your audience will find interesting and helpful.
Tailor content to your audience's needs and interests.
Promote your page to attract followers.
Create LinkedIn Showcase pages for specific products so you can customize your messages for different segments of your audience.
Updating your Business LinkedIn profile is important because you'll want to continue to attract followers as well as appear relevant. After all, dead profiles suggest nobody's home. Instead, you'll want to keep your profile positioned to engage your followers at all times. Ways to make this happen include:
Refreshing your LinkedIn Profile's branding such as your background image and more.
Auditing the rich media on your profile, such as YouTube video links, to make sure they are still relevant and active.
Checking your website links to, once again, making sure they work.
Accessing your LinkedIn connections to delete anyone who isn't relevant or to reconnect with those who can help you build your brand.
Viewing your LinkedIn activity to increase visibility and views.
Checking your company page to ensure that the new images and updates are all correct.
The reason for all this checking and re-checking is because LinkedIn, like many social media platforms, often makes changes to its profiles that you need to be made aware of.
Finally, optimizing your LinkedIn business profile is important because it increases visibility and lets users know which sections of your profile are most important. You want to make sure the basics are working for you. These may include making sure you are using a high-resolution photo that is lit correctly and your headline uses keywords that your target audience uses most often.
After that, don't forget to:
Customize your contact information. Make sure all the entry points to your profile reflects important keywords.
Use a video to introduce yourself and your work.
Solicit endorsements and give recommendations.
Share your education, certifications, and all awards.
Advertising On Your LinkedIn Business Profile
this is a good linkedin marketing strategy Besides serving as a good way to get your company information out there, LinkedIn is a great tool for target marketing. This can include using LinkedIn ads or LinkedIn Matched Audiences, two tools that market your business directly to the people who may be interested the most.
LinkedIn Matched Audiences helps you retarget website visitors, market to contracts from your customer databases and marketing automation platforms, and reach decision-makers at target companies for your account-based marketing programs. It's available for all LinkedIn advertising products, including Sponsored Content, Sponsored InMail, and other ad formats.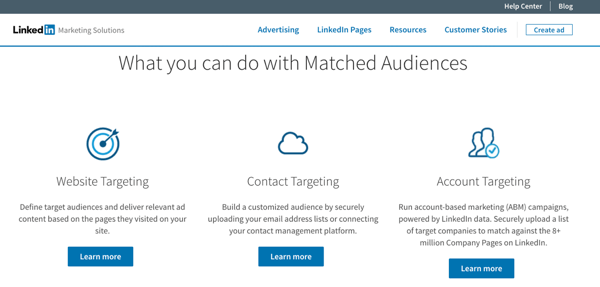 Three of the new targeting capabilities are:
Website Retargeting — Allows you to market to LinkedIn members who have already visited your website.
Account Targeting — Helps you reach decision-makers within your target accounts.
Contact Targeting — Enables you to upload or integrate your contact list to build a customized audience for your business.
To improve your LinkedIn ads you need to run split tests to track audience response. Split test are also referred to as A/B testing. This requires optimizing your LinkedIn Sponsored Content campaigns. Split testing requires testing and iterating so that every component of your campaign, such as images and calls-to-action, is optimized. Tests should run for at least two weeks to be truly meaningful, and you should only test one variable at a time to see if it makes a difference.
LinkedIn ads work best for reaching small- to medium-sized businesses. To make this work requires enabling the "Company Size" filter that allows you to target the companies that are most likely to purchase your product or service. One of the challenges to this service is many companies with 50 or fewer people have not set up a company page on LinkedIn and those that have don't require individual employees to associate their profiles with the company page.
The good news is that LinkedIn allows you to retarget visitors to your website with ads, which means you are going after people who have already shown interest in your product or service. You also have the opportunity to connect with qualified leads through lead generation forms that are designed to collect information via your ads. When members click your ad's call-to-action button, for example, the form will open with the fields already filled using information from their LinkedIn profile. It's that easy.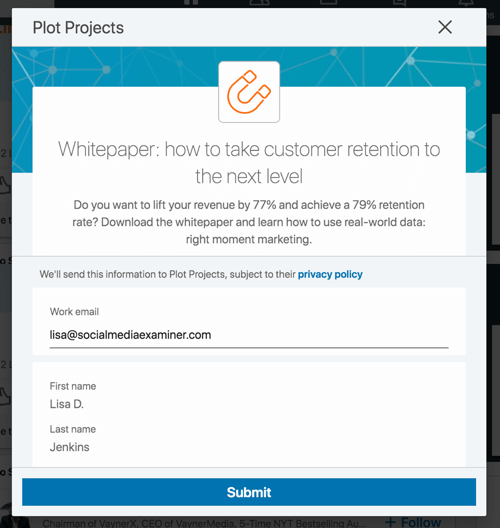 Finally, video ads are another option offered via LinkedIn. Users can research a target audience by interviewing current and former clients, conducting an interview with a member of their executive leadership, and reviewing the LinkedIn profiles of existing clients or prospective clients.
Analyzing Metrics On Your LinkedIn Business Profile
So let's say you set up your profile, make sure it's optimized, established ad campaigns and even record some video. How do you know if all this marketing is working or not? The answer is within key metrics you'll use to benchmark your LinkedIn company page performance against the pages of your competition. The way to start includes:
Creating an audit spreadsheet.
Identify which techniques, such as shares, clicks, and "likes," are getting you the best results and which ones are falling short.
Tracking follower data.
Use LinkedIn's built-in analytics tool to assess your company page and not the total number of your followers. Use this number over time to see how it grows or doesn't.
Examining engagement data.
Your LinkedIn analytics will show the number of impressions/reach, clicks, "likes," comments, shares, and more, for a certain time period.
Measuring referral traffic.
You'll want to use Google Analytics to analyze how much traffic LinkedIn is sending to your company website.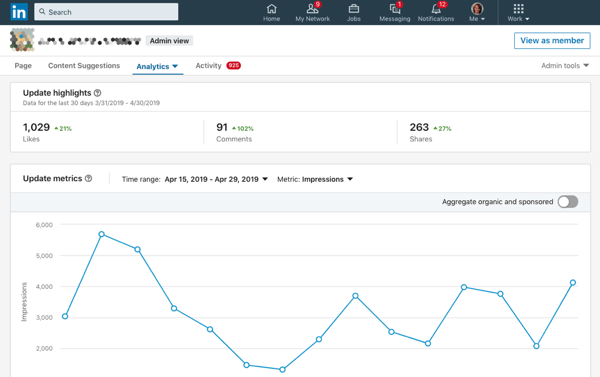 Become the Social Media Marketing Rockstar for Your Business
Meet your secret team that makes you look like a social media genius and empowers you to embrace change! We're a genuine community of marketers from your friends at Social Media Examiner. And we're here to support you. Think of us as your career insurance policy. We keep you focused on what matters. We make sure you won't be left behind as the changes keep coming. Join the Social Media Marketing Society. Get access to monthly online training, expert support, and a thriving community of marketers who will empower you to succeed.
also read Esty Review: Learn How much it cost to sell on etsy and How to sell on etsy successfully
Generating Leads Through Your LinkedIn Business Profile
It takes five easy steps to get LinkedIn generating leads for your business:
Start with a LinkedIn Summary that conveys your value.
Write a company summary that makes your prospects feel like you understand their problem and you have solutions. They need to be confident in your skills and expertise to help them get to where they need to go.
Leverage the LinkedIn feed to deliver content that establishes your expertise.
Focus on topics that you are an expert at. Demonstrate by what you are posting that you are the expert. Let your content illustrate to the outside world that you have the knowledge and depth and skill sets to own the space you operate in.
Customize LinkedIn conversation starters for initial outreach.
Once you start outreach, know what to say and if you're reaching out for the first time, give the recipient some context.
Monitor notifications for special occasions to celebrate.
Monitor birthdays, work anniversaries, promotions and use them as opportunities to reach out and engage prospects.
Develop InMail and Messaging scripts to move conversations toward your sales pipeline.
Write scripts that help move your customers off of LinkedIn into your sales system or process.
LinkedIn can also improve your prospecting for leads and, once you make the connection, build trust so you can enter conversations about your product or service. Businesses can generate leads three ways:
Nurture your relationships.
This goes back to making sure your connections are relevant and up-to-date. If so, stay connected with them by checking in. This is the surest way to build awareness and trust. Use native prompts to start a conversation. The prompts in the "Ways to Keep in Touch" box on LinkedIn's home page are good ways to keep engaging people in your network
If you are a freelancer, join the LinkedIn ProFinder network.
This is a freelancer marketplace where independent professionals can connect with LinkedIn members seeking experts for specific services such as writing, designing, editing, consulting, programming, and more.
also read ULTIMATE GUIDE TO SELL STUFFS ON FACEBOOK GROUPS IN 2023
Another tool LinkedIn offers is Sales Navigator, which gives marketers an edge in lead generation, business development, and brand awareness on the platform. It takes about an hour to set up and, once ready, offers a predictive search so the more you use it the faster it will work to tailor your results to your needs.
Sales Navigator was created for sales professionals, many of whom focus on account-based marketing (ABM), which focuses on the account or company rather than individuals. Fortunately for marketers, Sales Navigator is extremely useful for both ABM and individual lead generation marketing.
Finding the perfect prospects requires fine-tuning your searches. These are prospects that are enjoyable to work with, the ones to whom you can give the best service, and those that offer a greater financial return for your business. You can use LinkedIn to seek these prospects out, but another way the platform works is to attract them to you.
To build an advanced prospect profile you need to identify a number of ideal attributes including demographics. That includes job title, industry, company size, and company revenue. You'll also want to describe your prospect's pain points and what actions they already might be taking to relieve them. By doing this you are mapping out an identity of the perfect prospect, which will help you in using LinkedIn tools to target them.
also read INSTAGRAM MARKETING TIPS: HOW TO USE INSTAGRAM MARKETING TO PROMOTE YOUR BUSINESS
Claim your custom URL
Everyone should claim their custom URL to ensure it includes their name (e.g., http://linkedin.com/in/davideerickson). This is especially important for people who have a lot of contact with potential clients — especially for those who [are in] professional services and the B2B sector — because when meeting with someone they have not yet met, many people will search Google for the name of the person with whom they're meeting in order to learn more about them. Claiming your custom URL makes it more likely your LinkedIn profile will rank in the top of those search results. — David Erickson, vice president of online marketing, Karwoski & Courage
Broadcasting Video On Your LinkedIn Business Profile
Like Facebook and Instagram, LinkedIn allows users to record and share original video posts directly onto the platform. The LinkedIn mobile app, where you'll be shooting your video, will help you boost views and engagement.
Video gives people a better sense of who you are, what your business does, what your products look like, and more. Think of it as reinforcing your brand on your own page. It gives you personality and voice, which is crucial in the marketing of your business.
There are three ways to use video on LinkedIn:
Support professional credibility on your profile.
Including a video in the Summary, Experience, and Education sections of our profile gives people a sense of what you do and who you are. All you need to do is click the "Link to Media" button and then paste the video link in and click "add."
Add visual interest to LinkedIn Publisher posts.
Again, video makes these posts much more dynamic and engaging for the audience you are trying to attract. Simply paste the link to the video in the post and you're done.
Make your updates stand out on the timeline.
People are scrolling their timelines up and down and a video will make them stop and take notice. This is another tool you can use to develop relationships with targeted prospects.
Post high-quality content
Quality contents can be highly targeted and should accomplish two goals. First, it should teach others how to solve a problem or how to do their job better. And it then establishes you as a thought leader in that space. Each aspect naturally leads to more business, if you offer them real value. It's basic psychology, and it gets real results. — Michael Riley, co-founder
 Join groups — Create your own groups
According to Lauren Covello, content marketing strategist, Ripen eCommerce, One tip I always share for small business owners is to join LinkedIn groups that are relevant to their target demographic. Not only is this a great way to "listen in" on what your audience is talking about, there may [also] be times for small business owners to interact or offer their advice. More importantly, you can message the members of groups you are in, even if you aren't connected. LinkedIn InMail adds up quickly, so this is a great way to save money when building relationships with potential clients.
Conclusion
According to HubSpot, LinkedIn is 277% more effective at lead generation than Facebook and Twitter. The reason for this is most likely because LinkedIn users are high-level decision-makers Hence giving Linkedin a hitch, what should come to your mind when talking about proffesionalism or advanced devs is linkedin, we have discussed all the neccessary linked marketing strategy needed to take your business and brand to the next level, or is required of you is to take action and stragetically implement all you have researched and learnt about linked marketing hacks.
cheers.