Business Ideas for Women
Starting a small business is not as easy as you think but there are some business ideas you can pick immediately without much stress.To be successful in a  small business, you have to start from the very bottom, especially if you are a single mom or a woman with little or no budget to put behind it. There are certain marketing exploits that you can benefit from in order to spread the word, but you also need to find a market to sell to and a small business that is really going to work for you.
Here are the best small business ideas for women we were able to fish out.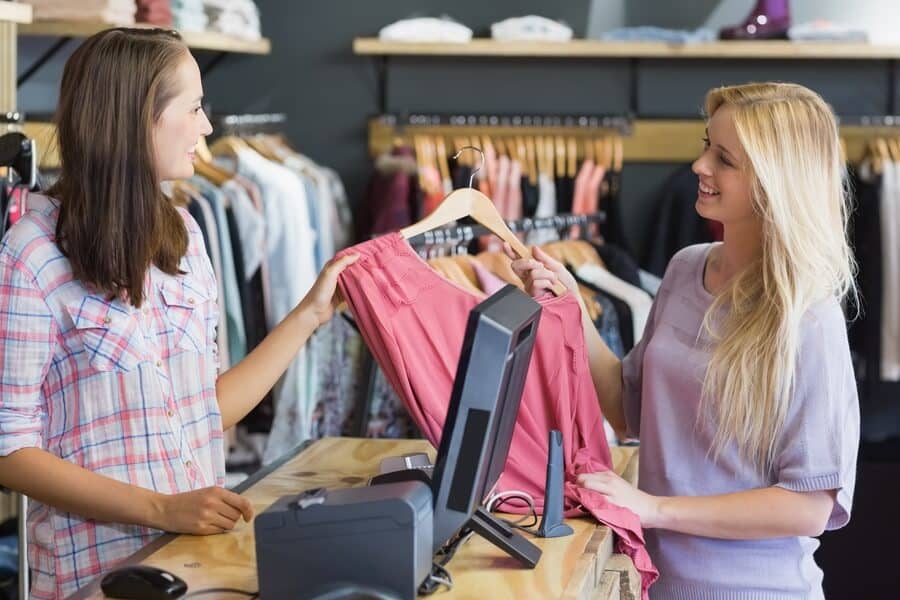 The clothing business trend is catching on among women. With a little investment, many women started their businesses from home. Some, creative women with a vision started their own clothing brands. You can read our article on How to start a clothing business in 2023
The clothing industry offers many small business opportunities. You can have a start from a simple printed apparel store to creating your own clothing brand, depending upon the investment you have.
These are the clothing and apparel products you should consider when you're thinking to get into clothing business:
Short Sleeve Shirts
Long Sleeve Shirts
Hoodies
Pants/Leggings
Dresses
Lingerie/Underwear/Socks
2. Food service business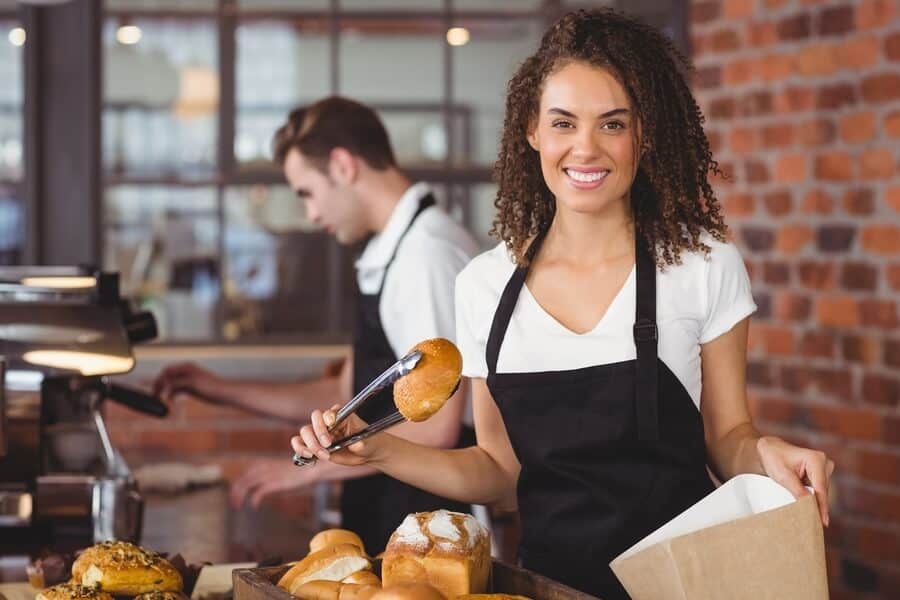 One of the most suitable business ideas for women is a food service business. If you're a woman who loves to cook, no one can stop you from becoming a food entrepreneur.
All you need is some space for cooking and serving if you're not planning to have a mobile food service. You can cook anything that has some demand in your area.
These are a few industry trends that you should know:
Food trucks, carts, and kiosks are popular because of their mobility and recognizable menu.
Nutrition-conscious customers prefer fresh and locally sourced food with low fats.
Often families go out for dinner and so, you can consider something that would interest children.
3. Graphics designing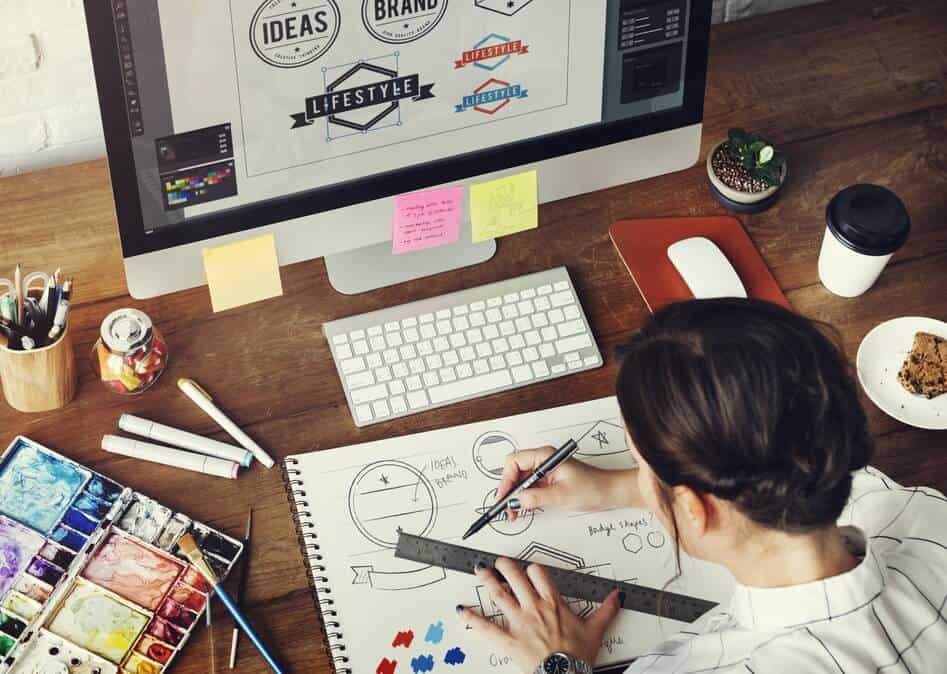 Every company needs a graphic designer. That's why there is always a good room available for creative graphic designers. The better part is, even if you do not work under someone, you can start freelance graphic designing and do work as much as you want.
You'll need to create a portfolio and make yourself enough popular to get big projects. It requires creative minds and is one of the top home-based business ideas for moms.
4. Sewing business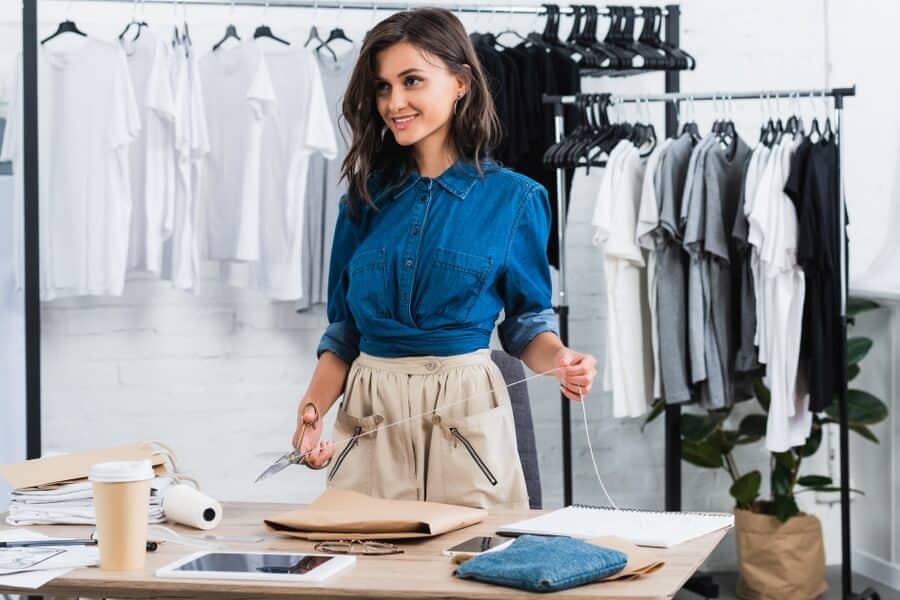 If you like sewing, creating designs, or performing alterations, starting a sewing business could be the best idea for you. Depending on the skills you have, you can get projects of different types including dressmaking, costume design, embroidery service, and clothing repair.
If you're a beginner, focus on learning skills, getting experience, and making your business known out there. If you do great work and charge reasonably, you'll find more and more customers every month.
Try to keep yourself up to date with fashion and sewing trends, so that you could communicate with potential customers and make them happy customers.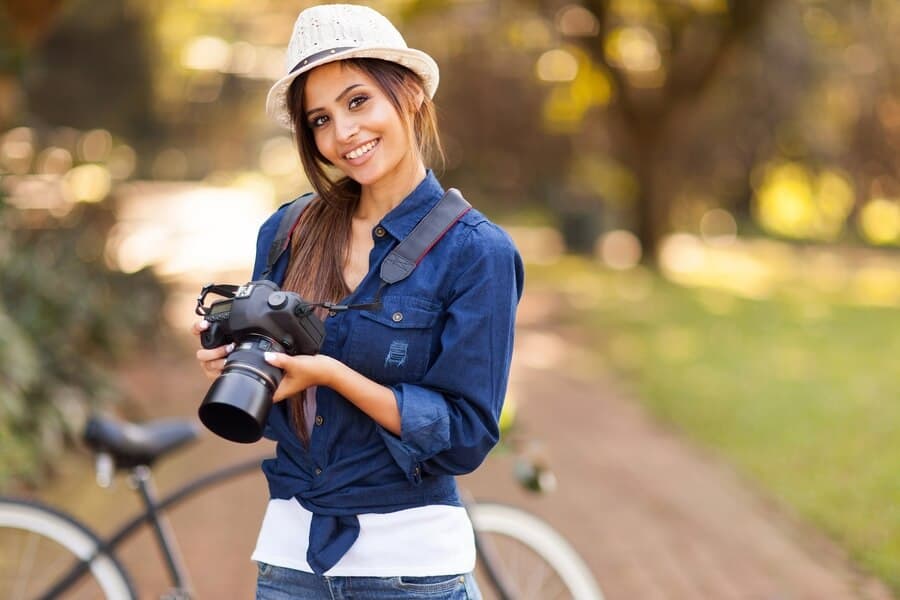 Do you love photography? Maybe, you're a family photographer but you haven't considered photography to earn money from? Have you? If you know the art of photography, believe me, it is something that can pay you off significantly. you can also read our article on 10 cool Ways to make Massive income as a Photographer
You can get started by just buying a camera plus accessories. We recommend you Nikon D850 plus camera body for stunning quality images and excellent performance.
When you get into the business, you'll have to build a portfolio of your business. Initially, find out local customers who might want your help with photographs at weddings, celebrations, parties, and other special occasions.
Use social media to let more people know about your photography services. Make a Facebook page and an Instagram profile where you upload high-quality pictures taken by your camera.
There are a few other options you can opt for once you're in the business:
You can offer your photography services to the real estate agents who would want pictures of their new listings for their sites.
Submit your pictures to magazines and press. E.g. The Sun Magazine
You can upload your images to online photography sites and get paid. For example, Shutterstock.
6. Interior designer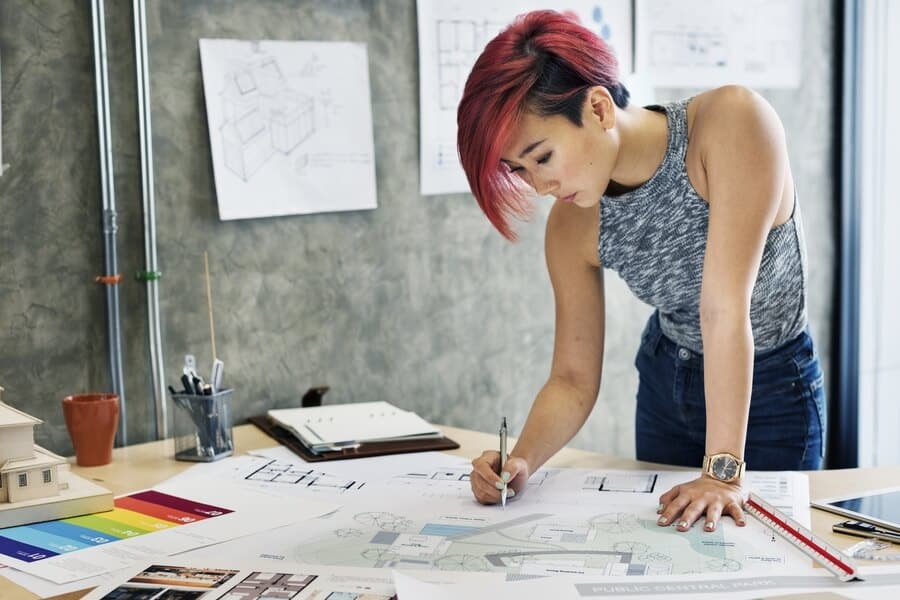 If you a creative person and would love to decorate rooms, interior designing could be a profitable business idea for you.
You'll have to select and blend color, fabrics, furniture, lighting as per client wishes. Most of your clients will be residential or commercial property owners. However, institutions, hotels, restaurants, and office owners would also need your designing services.
It isn't a bad idea to have a location-based office where you'll be able to talk to your clients, show them your sample book of fabrics, and other work you could do.
7. Yoga training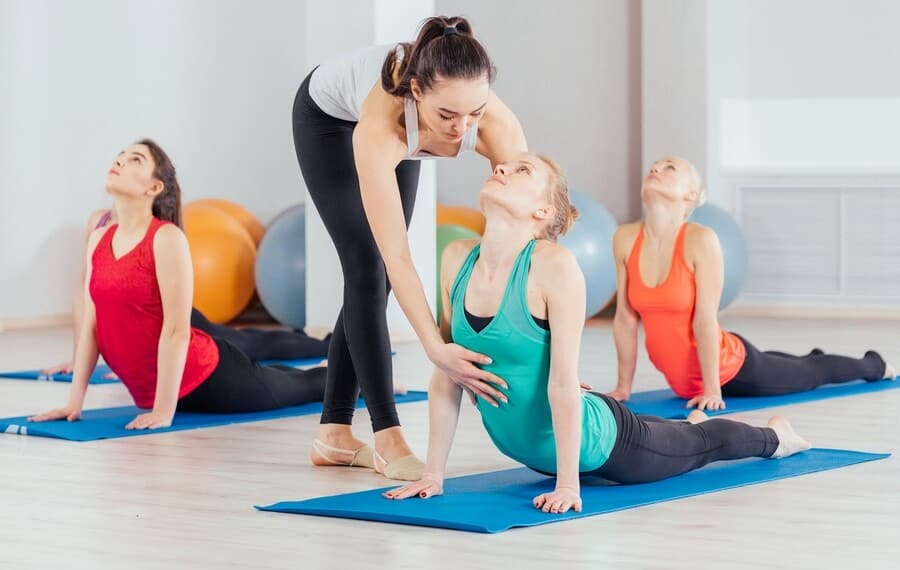 Many people want to do yoga to keep themselves healthy. If you're one of them and know this art, you could teach it and earn money out of it.
You do not necessarily need a studio, you can start from your home. It is a great business idea for ladies sitting at home. You not only earn money but also keep yourself busy in a healthy activity.
At the beginning of your yoga training, you won't earn big money. Only your students will pay you. But as soon as you find a good number of students, you'll start getting sponsorship too.

Blogging is about making money from ads and affiliates programs. It is one of the most suitable business ideas for women at home.  The good part is that you can work flexibly as per your wish.
Many "stay at home" moms are making in the range of $1K to $50K every month. You can too, right? The question is how do you get started?
All you need is to build a website and write articles about anything you like. Once you become able to bring enough visitors every month, you'll start earning.
Certainly, it is gonna take some time to start earning. And you'll have to learn a lot of new things related to this field if you haven't already. So, make a good plan before jumping into it.
Recommended: 4 awesome ways make money blogging in 2023
9. Dog walking and pet sitting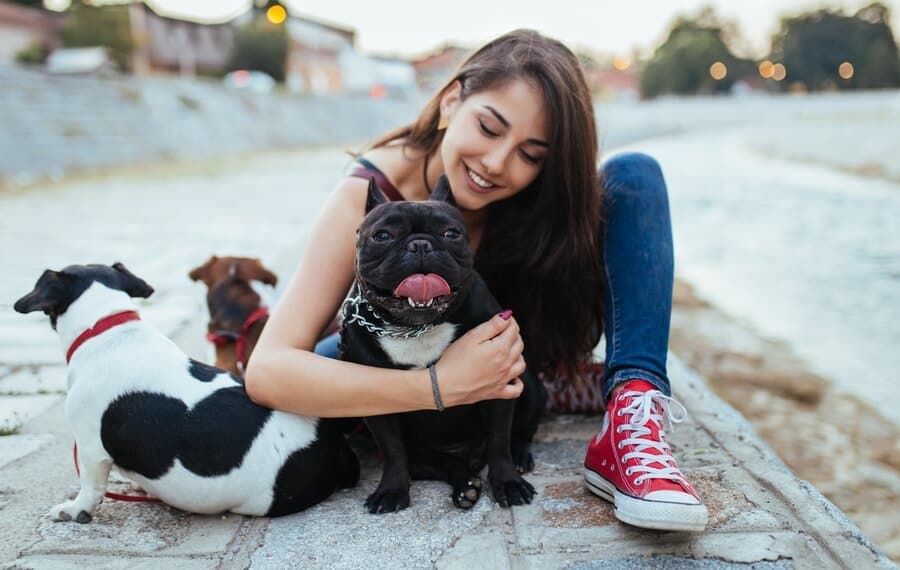 If you're looking for businesses that can offer you a steady income, consider per sitting. It is about sitting with pets, feeding them, taking care, and walking. You can also think of selling dog's food (or pet's food) and offering grooming and training services.
Maybe, you love puppies but the business requires hard work. You'll need to do a great job to attract more and more clients.
If you do not have any experience in this field, you could talk to existing businesses in the animal industry. You do not need any startup capital, however, you can have a hard time finding your first client.
also read Top 10 Side Hustles for Moms
10. Home-based chef business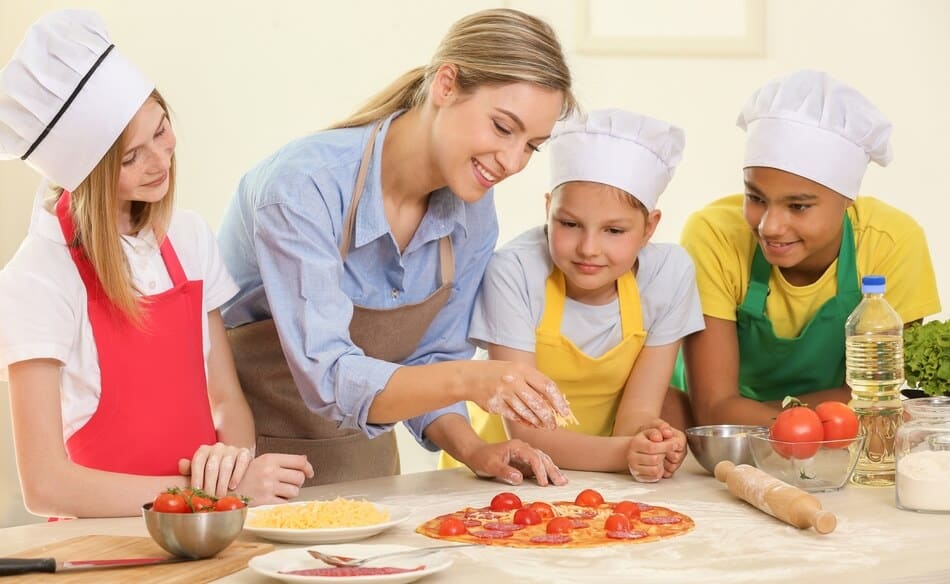 Have you ever considered teaching people how to cook? Maybe yes. Maybe no. Think of it now! It's a good way to earn money and meet new people.
It is amongst the easy home based business ideas for housewives. You'll need to buy ingredients and cooking utensils. And you may also need to advertise to get people's attention.
One another way to getting visibility is to record your sessions and upload them online on YouTube. You'll get students and earn money as well.
also read How to start a small cooking business from home
11. Wedding planning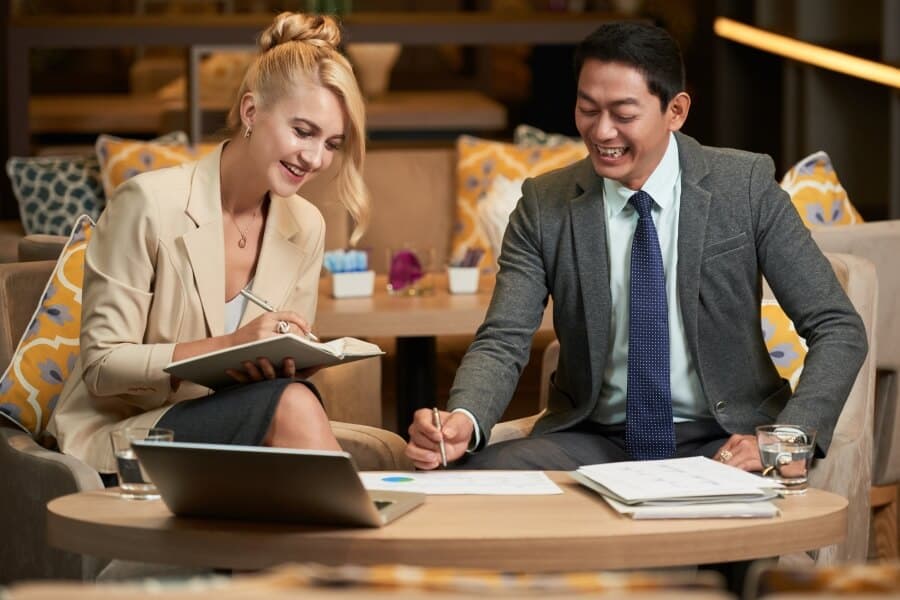 Wedding planning is a popular and exciting filed. But the work may require experience and good startup capital. So, if you're interested in wedding planning, you'll have to get some experience by working for a catering company.
you might also like How to start an Event Planning business in Nigeria in 2023
Once you have enough experience, you can get your own business started. You'll require a number of employees. The weddings may involve different protocols and traditions for which you and your team will create and manage the timeline.
Once you have a few contracts on your portfolio, you'll be able to get more and more events to plan. You can get clients online by publishing your portfolio.
12. Soap making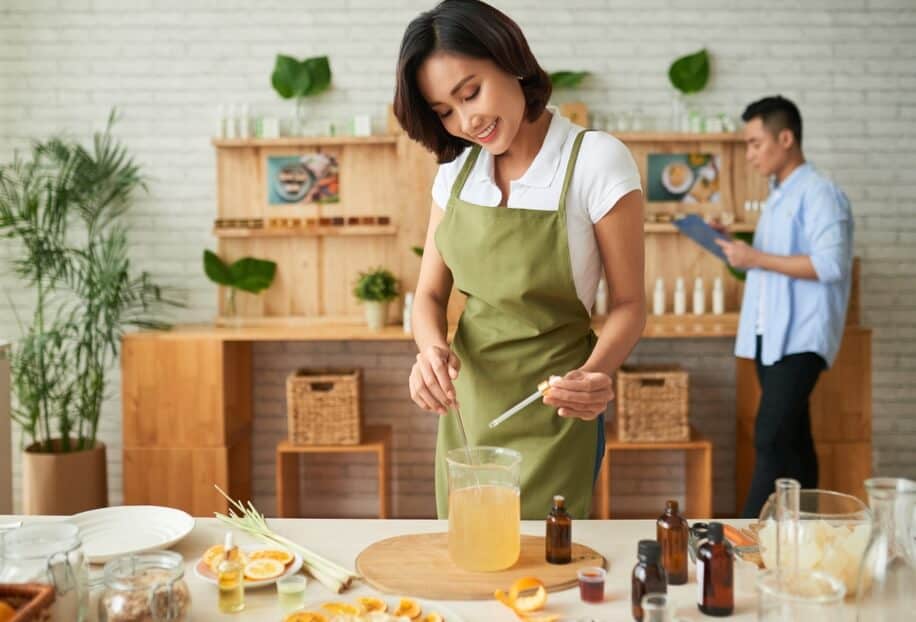 If you're thinking to manufacture a product on a large scale, soap and related product can be a good choice. You'll have to formulate soaps as per your formula.
Once the product is ready to be sent to the market, it's the time to market. Run ads campaign on TV, newspaper, and Social media ads. The traditional marketing tactics, including banners, flyers, and door to door campaign can also help.
Your products must be available in cosmetic shops, spas, boutiques, e-commerce stores, wholesale markets. The easier it is for the people to buy, the better it will be. And you'll find a loyal customer base soon if you're making quality soap.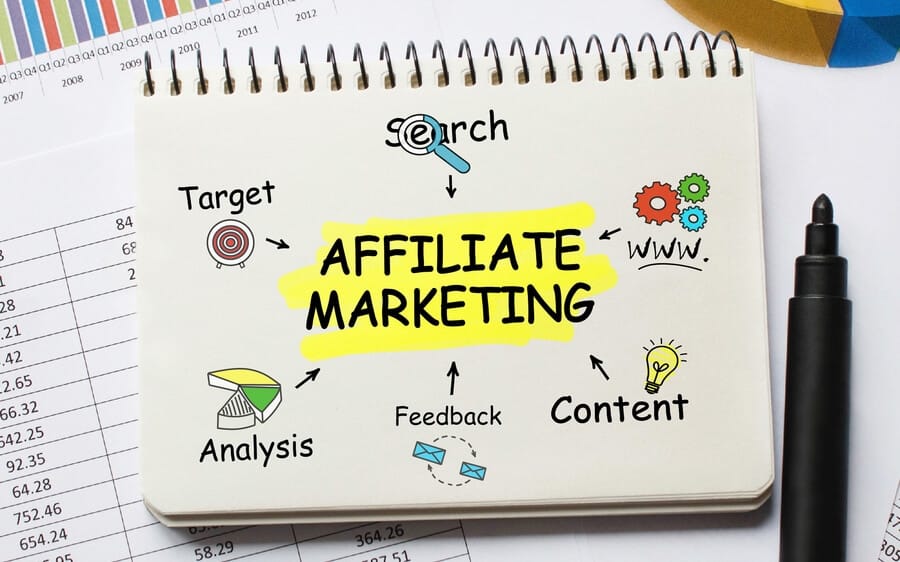 It is a home-based business idea that falls under blogging. It is actually selling other's products and getting a commission out of it. read our article on How to make money as an affiliate Marketer with or without a website on Propellerads Network
You can do blogging/vlogging and earn money as an affiliate marketer. If you have a blog or a YouTube Channel, you might recommend some products to your audience. And if they buy the product, the product seller will earn money.
But the sale was possible due to you, so to benefit you the product owners will give you a commission. And this is how you earn through affiliate marketing. It is not difficult if you're a good writer or well-known YouTuber.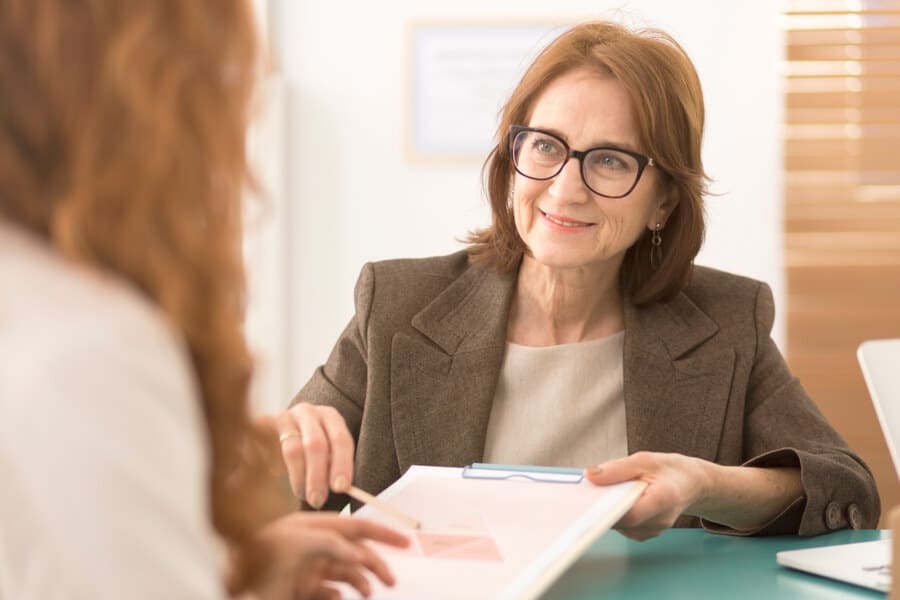 Do you enjoy helping people? If yes, you might be interested in becoming a life coach. As a life coach, you can charge in the range of $70 to $260, depending on what you offer, whether group coaching or 1 to 1 coaching. you might like How to start an online coaching business in 2023
Natalie Bacon became a life coach and she is making seven-figure income, so can you. But you must make your market first.
If you're new and looking for helpful resources, "Coaching Skills Training Course" is highly recommended.
15. Teach or tutor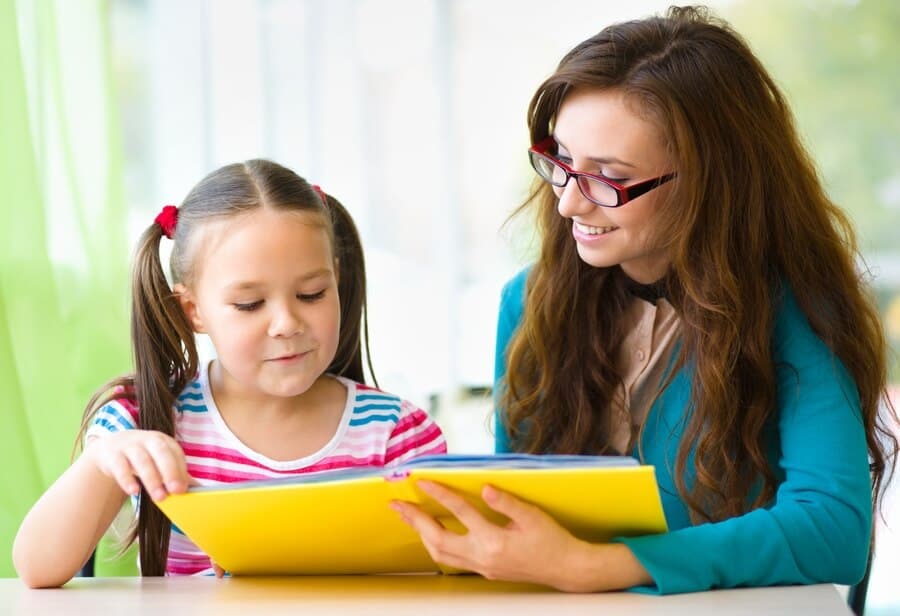 Teaching is another home-based business idea for moms. You can either spare a room in your home for students or opt home tuitions.
If you teach a group of students in your home, you'll charge less and will need to get a good number of students to make a decent income.
On the other hand, if you choose home tuitions, you'll charge high and you can earn sufficient money from a couple of students.
There is one another option that you can also consider. I.e. online tutoring. It is a trending business idea and many teachers are opting them over traditional teaching.
Unlike home based tuitions, online tutoring is easy to start. You can join popular online tutoring sites (VIPKids and Tutor.com ) today.
Recommended: Online Business Ideas for Beginners
16. Owning rental properties
Did you ever think of making money while you sleep? Passive income from rental properties is a cool business idea. How much you make money depends on the items you choose to buy.
Now, the question is what items to buy for rental purpose? It depends on your pocket. And of course, it's better if you choose products that you feel interested in. You'll also use them and feed your interest.
For example, if you're a photography lover, you can buy a camera for rental purpose! Whenever you're free you could just take awesome photos and upload on your social media page. You can become a social media influencer this way, which can give you big sponsorships too.
Other rental properties include house, cars, furniture, popcorn machines, construction machinery, and party supplies, etc.
17. Freelance writing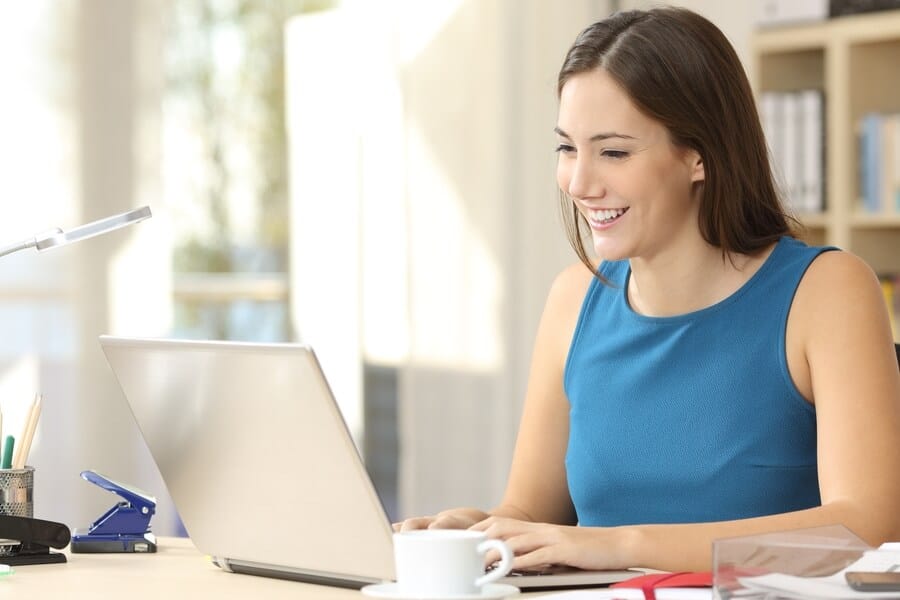 Maybe you're a hardworking woman looking for businesses with unlimited earning potential. If yes, freelance writing is for you.
also read 10 PROFITABLE SIDE HUSTLE IDEAS TO START AS A STUDENT
You can work hard to achieve your earning goals while you're flexible in hours of work and projects. Join UpWork and search for jobs:
Send proposals on the projects that interest you.
Avoid sending proposals more than you can handle.
Initially, look for building your portfolio, not just making money.
Once you're an expert in writing, you should opt to go for big projects only.
You do not necessarily need to join UpWork. You can find freelance writing jobs on other popular freelance sites, including Fiverr, PeoplePerHour, and Freelance.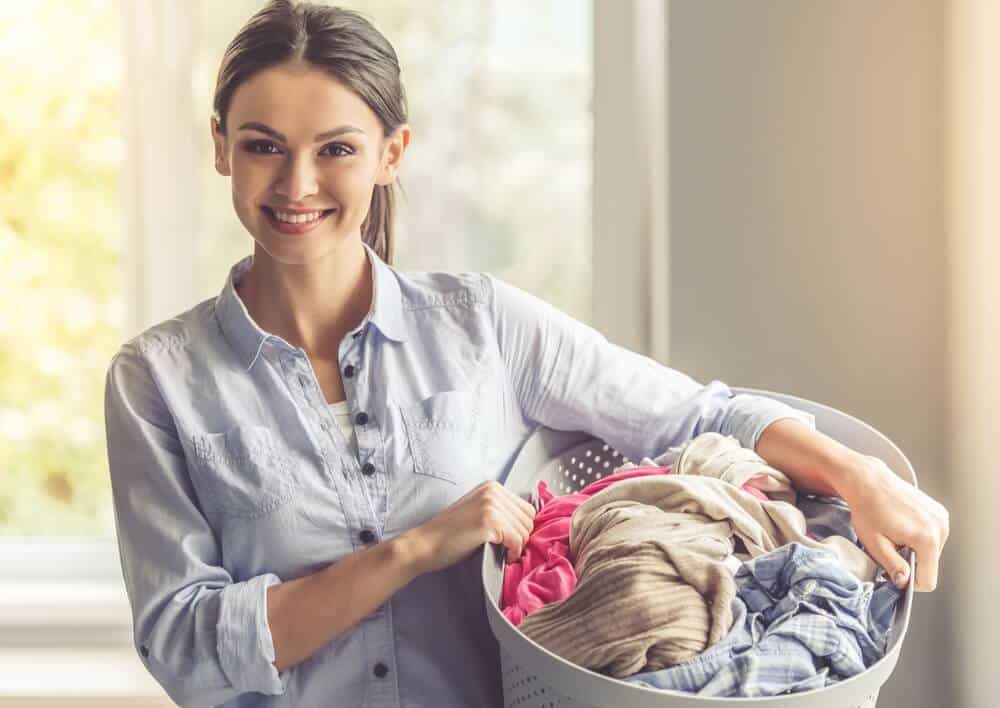 Laundry business is among the profitable small business ideas. But it is suitable for active and physically fit people. So, if you're looking for less physical work, laundry isn't suitable for you.
Laundry is an ongoing chore, but not everyone has time for it. That's the reason people are paying money for it.
you might like How to start a Laundry Business Service
When you're planning to start, make sure you conduct comprehensive research. This is because it might not work in some places. For example, most people in small towns would prefer doing their own laundry. So, there you can't be successful.
You should look for a place near schools, hostels, offices, and other institutions where most of the people will need laundry services.
19. Sell on ETSY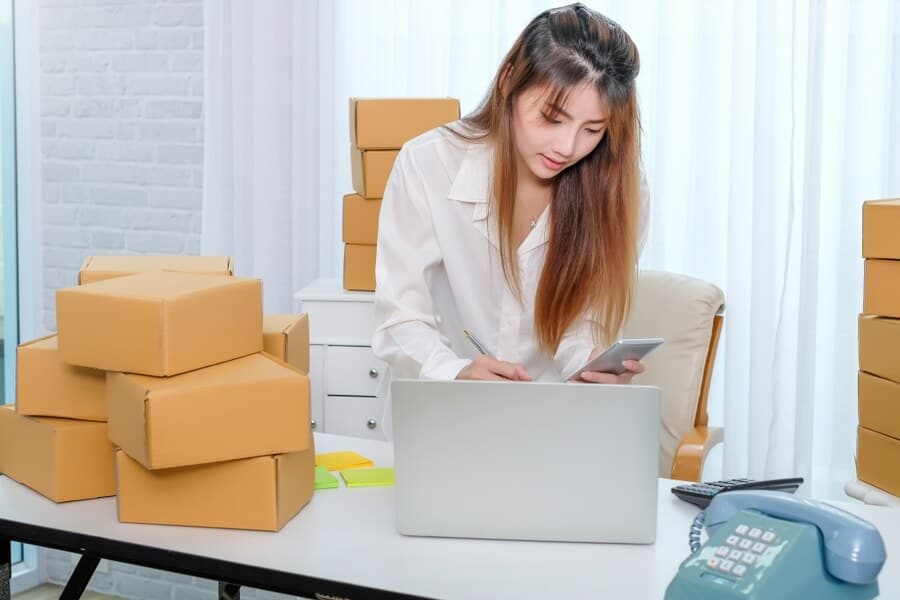 Etsy is a platform where you can open an online shop. It feels like a complicated thing to do, however, it is straightforward and simple. You can run it part-time while doing a full-time job.
If you do not know what you should be selling, you should start with research. Once you know the top selling products on Etsy, you could start your digital venture then.
20. Cosmetics Shop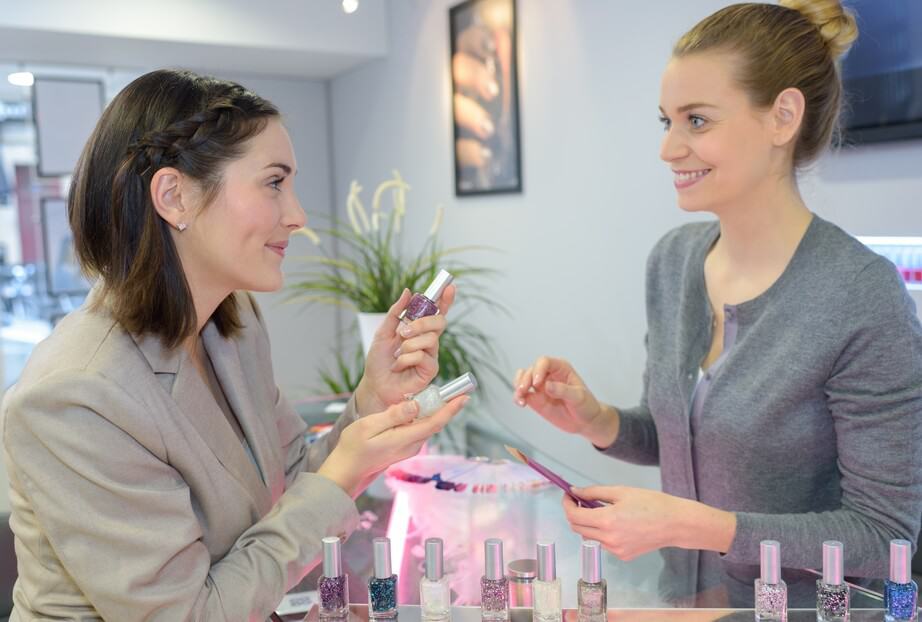 It is yet another profitable small business idea from the beauty industry. Almost every one of us uses beauty and skin care products to look. And that's why they are always in demand.
If you're planning to start a retail cosmetic shop, you should learn the federal government regulations.
Initially, it is okay to have a small start. But with time it should grow and your goal should be to make it a standard cosmetic shop that keeps every related product.
This is not all. You could set up an online store and send the products to the customers. This way you'll be able to generate enormous sales and profits.
21. Fitness Center (Gym)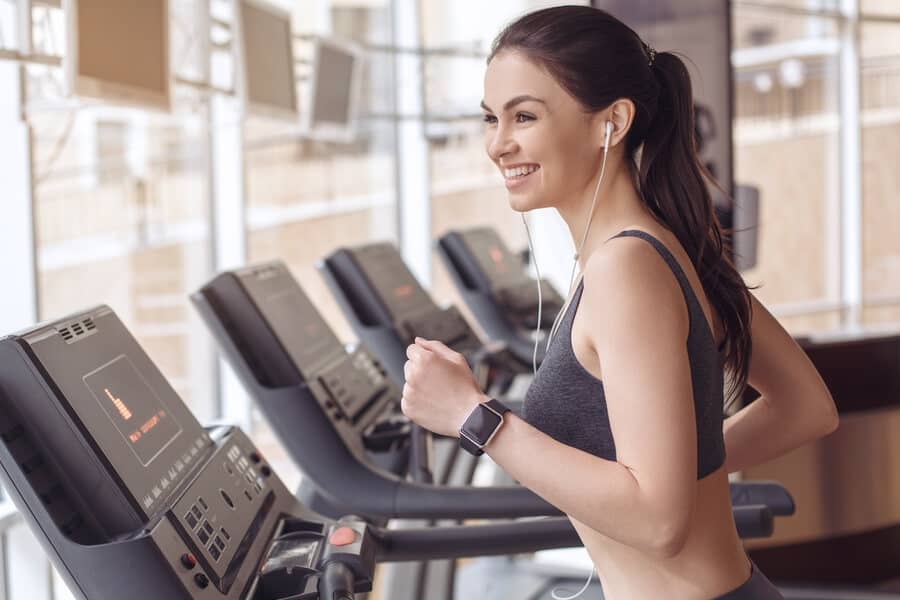 The gym center requires good money to set up. The equipment is expensive. But the good thing is that it is a one-time investment business. You won't need to bother about anything for years.
In case, you want to expand your gym business, you can consider renting more space and increasing revenue streams.
Certainly, you can't just depend on the money that you earn from gym membership and monthly fee. Therefore, you'll have to make more stream of income such as juice bars, tanning salons, fitness classes, and renting out space to personal trainers.
This is a good small business idea for women who are passionate about their health and fitness. The bad part is that it doesn't have a flexible work schedule.
22. Baskets Making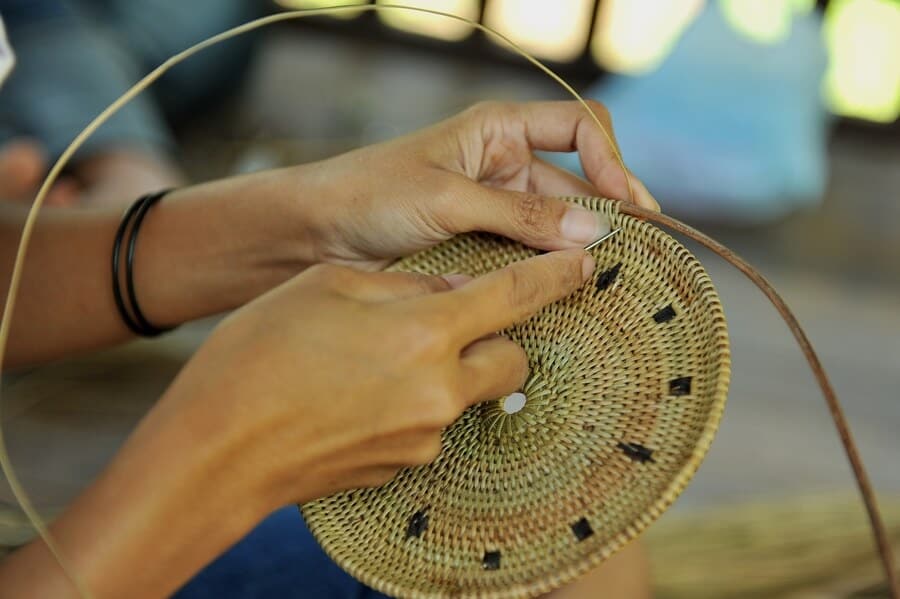 Gift baskets are needed in parties, birthdays, festivals, and other events. And if you have a flair of creativity, you could easily make decorative baskets, boxes, and bags to suit anyone's taste. It is a great side business idea for ladies sitting at home.
Marketing of attractively packaged basket isn't hard at all. You're to take pictures and upload them online on your social media page. You should also contact the nearby local shops and show them your designs.
Some clients may also order customized baskets with their company's logo on them. You could charge them relatively high.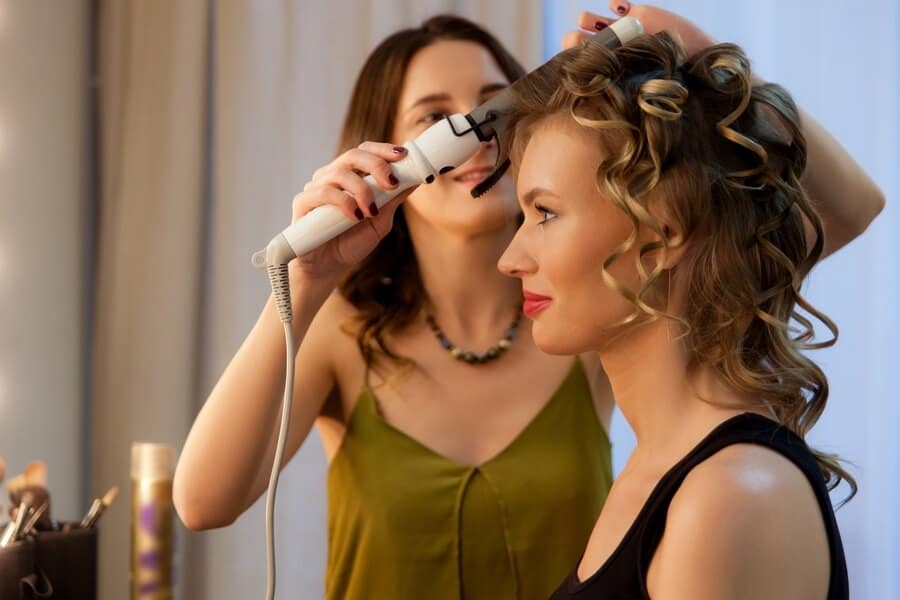 Many experienced employees are making the transition from workers to become a salon owner. So, if you're waiting for the right time, just decide and jump into it.
Certainly, you'll face the competition. But that's not something to worry about if you have knowledge and skill to bring the new customers and retain them by offering quality services.
The big mistake that most entrepreneurs make while starting a hairstyling business is that they pick the wrong location.
you might like How to start a Hairstyling Business in Nigeria (Barbing Salon)
If you ask hair salon owners, you'll come to know that many of them wish to have picked a location with high visibility and more traffic. The point is "be very careful about the location".
24. Be A Florist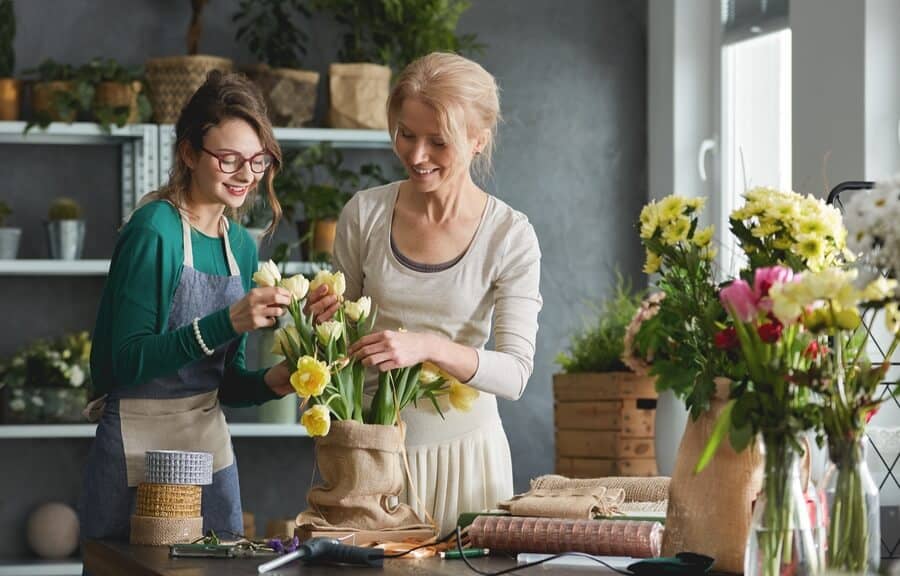 Many people have turned their hobbies into businesses. And you can do that if you have an interest in gardening and natural beauty by becoming a florist.
Thousands of people buy flowers for loved ones every single day. So, you can help them by providing them fresh flowers and customized bouquets. Can't you?
also read 10 Importance of business rebranding and Ideas
25. Embroidery Services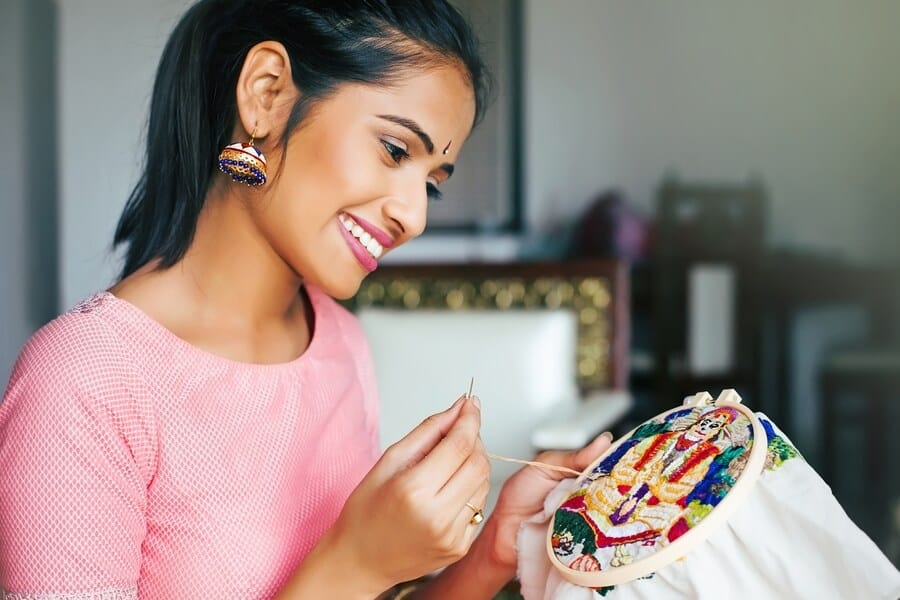 Embroidery industry is a multi-billion industry. Embroidery machines are now available in the market. Moreover, it is made easier by modern equipment and computer software.
It can be home-based, but a separate showroom where items can be displayed should be established. It will increase your chances of standing out in the competition.
What do you need to get into the embroidery business? Inventory items such as shirt, hats, jackets, embroidery machines and accessories, and other items for your store.
26. Bridal Store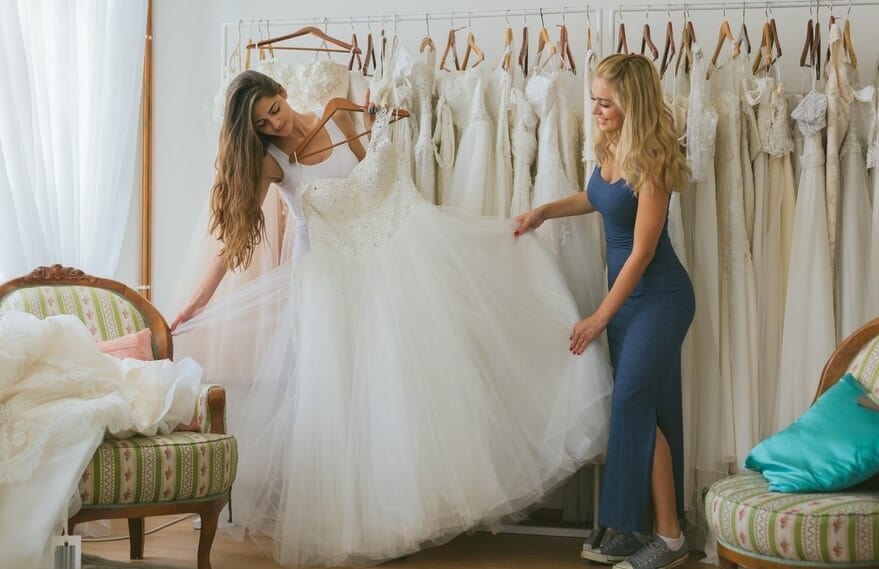 The bridal store is a profitable retail business idea. Women know the things people spend money on at wedding ceremonies and therefore, bridal store business is a fun business idea for them.
Just having an interest or knowing about a niche is not enough, you must do some planning and research to ensure the success of your bridal store.
Initially, you will have to find reliable manufacturers and distributors. You'll need to participate in local bridal events to promote your dresses and other products. You can also network with wedding planners to get referral traffic and make more sales.
also read How to start and Grow an SEO Consulting business
27. Fashion Design School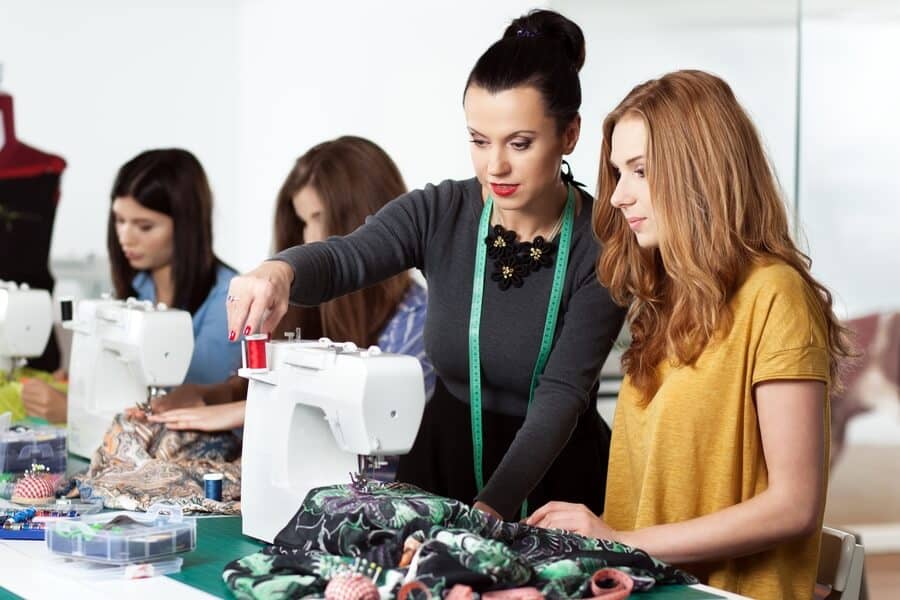 Fashion schools are popular these days. Many women entrepreneurs are in the business but there is still room for new individuals. If you have got some experience, you could do it.
also read 6 ways to promote your small business on Facebook
Sufficient knowledge and experience are essential and of course, you should know how to motivate your students, teach them, and give them confidence and skill.
Fashion designing school not only earn money from the monthly fee but also sell the design they make. So, it is a good idea to consider.
28. Voiceover Artist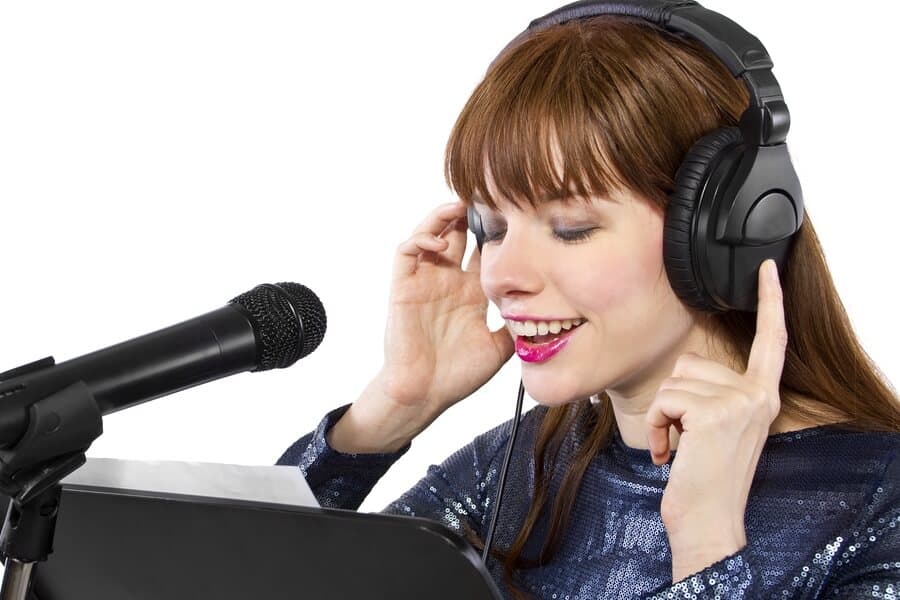 Do you have great speaking skills and a good voice? If yes, you can start working online without any investment. Voice over work can be your go. You can lend your voice for audiobooks, video ads, radio, and YouTube videos.
Working women can do voice-over work to earn some extra cash part-time. But the question is how do you find work to do?
Join freelance platforms (UpWork) and make a sample of your voice over work. You're good to bid on jobs that are related to voice over work.
Definitely, it would be difficult initially as you are no expert and you do not have great feedback on your profile. But you'll learn everything with time and soon you'll be getting invitations from the clients themselves.
29. Cake Making Business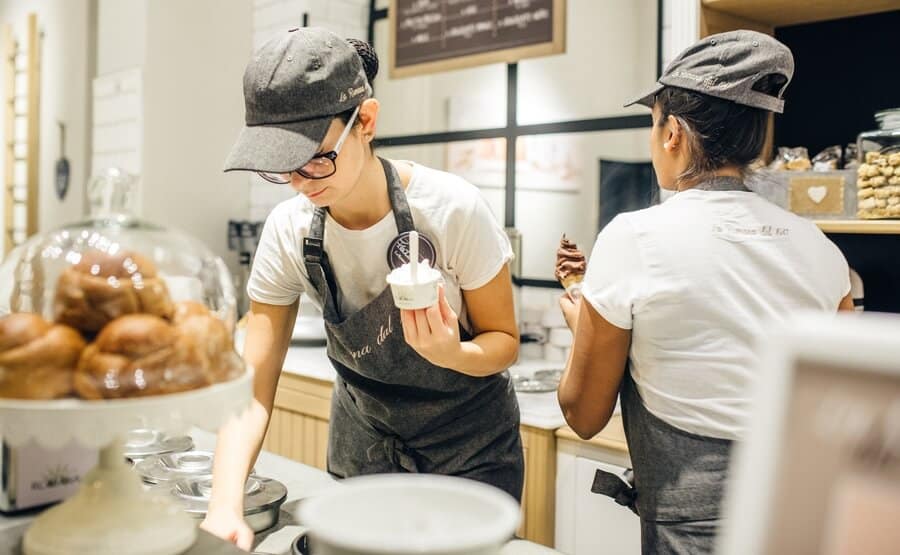 Women are smart and intelligent cooks. And if you're one of them, cake making is your business idea to work on. You can easily excel in the food industry if you have made up your mind.
also read 10 PROFITABLE SIDE HUSTLE IDEAS TO START AS A STUDENT
The cake demands increase on special occasions, including Halloween, Eid, and Christmas. So, you can earn big money on such occasions.
The good part is that the cake demand isn't affected by season and therefore, it can guarantee you a steady income throughout the year.
30. Jewelry Making Business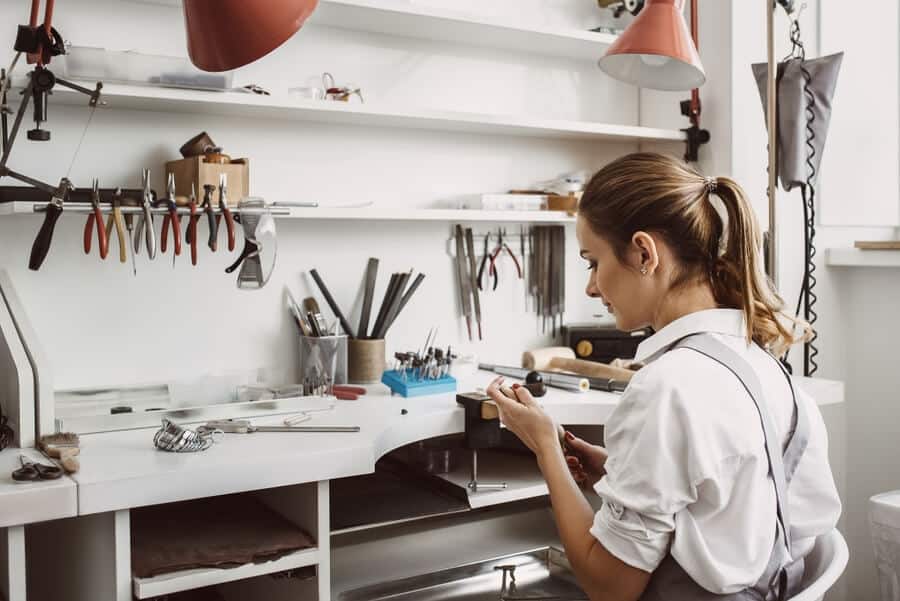 One of the coolest business ideas for women in the fashion industry is the jewelry business. But here you need to put both money and hard work to be successful.
Once you're in the business, you'll have to design jewelry from different materials from plastic to gold. Also, you would make unique and creative designs that have never been made.
You can also design customized jewelry on client's request. In order to make your brand known, you must do marketing, especially at the beginning of your business.
31. Motivational Speaker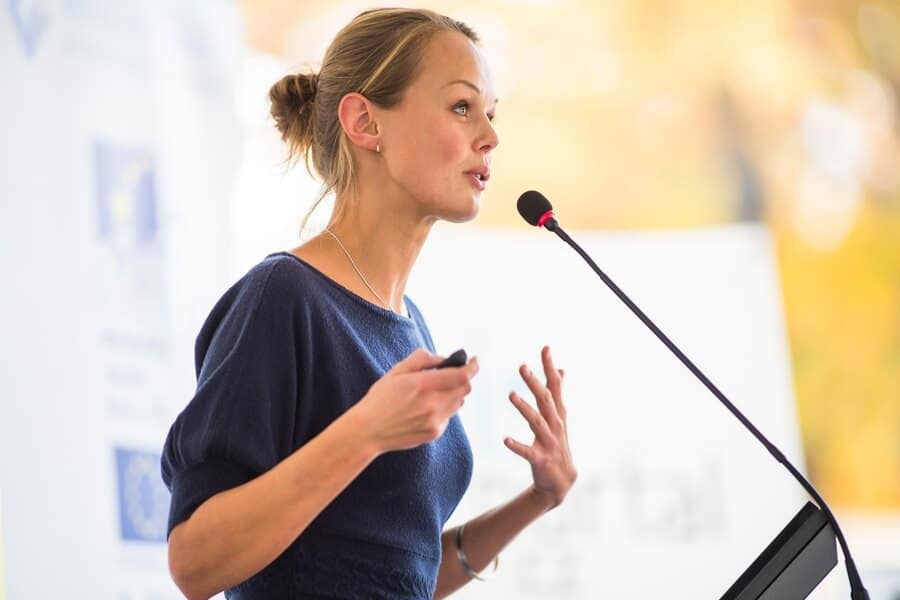 Motivational speaking is an art and not everyone can do that. It requires eloquence, great communications skills, and a good grip on different topics.
Becoming a public speaker doesn't cost you money. However, you must enrich your public speaking skills by getting a mentor, enrolling in online courses, and watching YouTube videos.
32. Social media management

Would you like you to manage social media account for businesses to earn yourself money? Maybe. You can do it part-time from the comfort of your home.
also read How to Choose the Right Marketing Strategies On Social Media
The more clients' social media accounts you manage, the more money you'll make. You can make, on average, $1000 to $10,000 a month.
33. YouTube Personality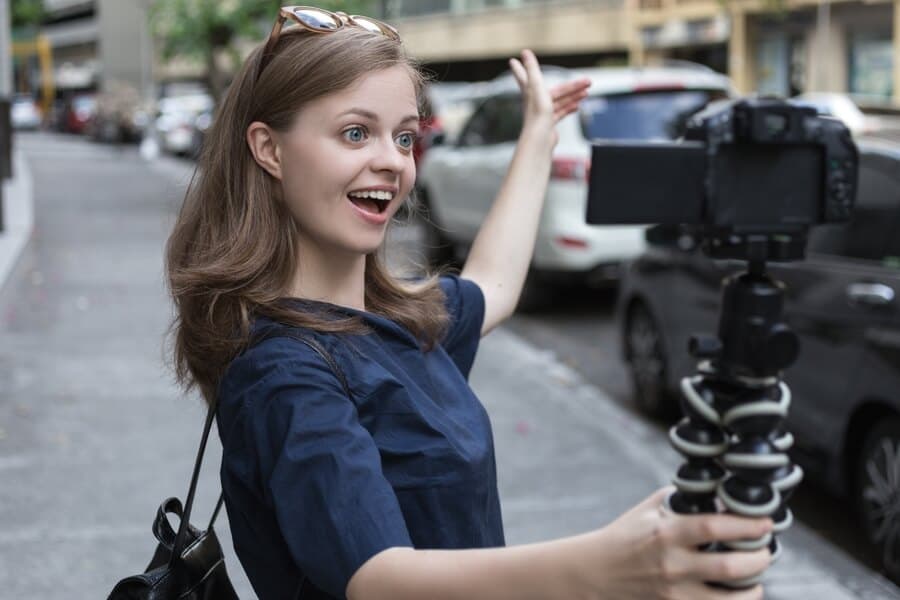 If you're a woman who's interested in videography, making YouTube videos is your way to move forward. There is no guarantee that you would be big!
also read How to make money on YouTube
But the thing is "If you consistently create great videos that engage the audience very well, you would earn yourself good money.
You can earn from AdSense ads. Along with this, you'll get sponsorships once your subscribers are enough. Moreover, you can start affiliate marketing with it.
CONCLUSON
We carefully outlined each Business ideas suitable for women, its now left for you to do more research and plan your business, don't forget that small business needs time and consistency to be successful.
feel free to comment your take on any of the ideas.