Instagram marketing is the way that brands use Instagram to connect with their target audiences and market their offerings.
INSTAGRAM MARKETING TIPS FOR BUSINESS OWNERS
Advertising on Instagram
the best way to promote your business is through instagram ads, Over Two million businesses are already using ads on Instagram. And they must be working, because 96% of U.S. marketers already using Stories ads plan to keep doing so.
While Instagram was slow to release advertising privileges to all, nowadays as long as you have a business profile you can run an advertisement on Instagram.
Instagram took their time releasing advertising to all. An older blog post explains why: "Our aim is to make any advertisements you see feel as natural to Instagram as photos and videos many of you already enjoy from your favorite brands." And in fact, it is the case that native-looking ads tend to perform best on the platform.
Advertisers now have 5 ad options including:
Photo ads – your standard Instagram post format
Video ads – the same as above, but with a video in place of a photo
Carousel ads – a slideshow ad, which allows for multiple images
Stories ads – these are Instagram's version of Snapchat ads seen at the top of the feed
Collection ads – a catalog ad that takes users through your product offerings
Why You Should Invest in Instagram Ads
Also read How to Choose the Right Marketing Strategies On Social Media
According to Instagram, 60% of people say they discover new products on the platform, and 20% of users visit a business profile every single day. Plus, 33% of the most popular Instagram Stories are shared by businesses like yours. Similar to Facebook ads, throwing some money behind a post will lead to more exposure for your brand, as well as more control over who can see your post.
Via Instagram.
What advertisers should really latch onto is the fact that Instagram uses Facebook's demographic data to serve up ads to the appropriate parties. This makes the tool super valuable for advertisers looking to target a niche audience because, Facebook already has a decent history and thorough demographic targeting options.
If you need more convincing check out Instagram's success stories page where you can sort by industry, goal, product, region, and business size to find stories around how similar business are seeing success with advertisements.
How travel brands are marketing on Instagram
Instagram Ad Cost
Also read 20 Steps to Market Your Business Card
According to CPC Strategy, the average Instagram CPC is $0.70 (compared to an average of $0.35 on Facebook). That figure tends to be higher for Instagram users between the ages of 18 and 44, for women, and for Apple device users.
On the bright side, advertisers do have control over how their budgets are allocated. For instance, you can choose between a daily budget to limit the amount spend per day or a lifetime budget where you would set up your ads to run for a length of time until the budget is depleted.
Other ways to control your Instagram ad spend include setting your ad schedule (for instance, you can specify certain hours of the day you want your ads to run), setting your ad delivery method (there are three options à link clicks, impressions, and daily unique reach), as well as setting your bid amount (manual vs. automatic).
also read 9 solid steps to grow your twitter followers
1. Use a business account
Just in case you skipped over the section above and plan to dive into the rest of the tips while using a personal account, here's why you should reconsider.
A business account gives you access to features you can't use with a personal account, including:
Instagram Insights (see Tip 17)
Instagram ads (see Tip 16)
Instagram Shopping (see Tip 13)
Contact information and a call-to-action button on your profile
A creator account has its own set of benefits for influencers and content creators. But for most marketers, a business account is where it's at. Hop back up to the top of this post and convert your account if you haven't already done so.
2. Clearly define your goals
All social platforms are tools. But you can't use those tools effectively unless you know what it is you're trying to build.
Instagram marketing can mean different things to different marketers. Are you looking to:
Increase brand awareness?
Get new leads?
Establish your brand as an industry leader?
Make sales?
While defining your goals, you should also try to keep up with the latest trends in your industry.
AI writing tools such as copy ai are on the rise. These tools will help you in creating engaging and compelling social copies for your instagram marketing which will definitely result in more leads and sales for you.
The tool is free but you can also upgrade later; when you are ready to upgrade, use a copy ai promo code to get it at the cheapest price and save some money.
3. Define your audience
The most active Instagrammers are between 18 and 29.
The United States is the largest Instagram market.
More urban residents use Instagram than their suburban peers.
But that doesn't mean you should only use Instagram to try to reach Urban Americans in their 20s. Instead, you need to define your target market so you can create content that speaks directly to that audience.
This will also become critical when it comes time to choose targeting options for your Instagram ads.
4. Optimize your profile
In just 150 characters, your Instagram bio needs to make a great first impression, convey your brand personality, and tell people why they should bother following your Instagram account.
That's a lot to ask from a small space.
Fortunately, you also get a few other fields on your Instagram profile to showcase what your brand is all about and make it easier for people to find you. These include:
Your name: 30 characters, included in search.
Your username: AKA your handle. Up to 30 characters, included in search.
Your website: A clickable URL you can change as often as you like.
Category: A business feature that tells people what you're all about without using up bio characters.
Contact info: Tell people where to find you.
Call-to-action buttons: Give Instagrammers a way to interact with you directly from your profile page.
G Adventures does a good job of making the most of all the fields the profile has to offer.
5: Relate to your followers while staying relevant to your brand
also read Steps to Manage Digital Marketing for Small Businesses
You always want to be thinking in the mindset of your target consumof ers. Likely you've already established a few buyer personas and have an idea of the makeup the leads you're nurturing and the customers you're delighting. But now you need to think about why they're on Instagram. To kill time? To see what's up with their friends? To check-in on what their children are up to?
Let's pretend you sell financial consulting services and you've established that your clients love sport cars and tend to follow popular car brands on Instagram. Ok, perfect solution: post pictures of fancy sports cars! Right? Well, not quite – you need to keep relevant to what you're selling so perhaps you post an attractive sports car, but write a catchy description reading "Wouldn't you love to buy this lightning fast beamer? You can if you start making better financial decisions! Call us today for a free 30-minute consultation." And then stop posting cars for a while because you don't want your market to think you sell sports cars.
Harpoon does this well by always using humor, delicious looking recipes made or inspired by their beer flavors, and always staying relevant to the time of year while promoting their seasonal flavors, to show how they relate to their followers. For instance the post below is like-able for several reasons. First off there's an adorable pup in the picture (who doesn't enjoy the company of a good-looking dog?), the expression on the dogs face is priceless and perfectly matches the caption, and their beer is beautifully branding the photo.
6: PLEASE don't over-post
This tip is pretty self-explanatory, but for those new to the Instagram platform, please note that over-posting is a big insta-no-no!
I remember when my good friend first joined and posted an entire Facebook album to his page, until friends from all locations were yelling at him to chill-out! If you're tempted to post multiple pictures at once, use Instagram's album feature (released in February 2017), which allows you to make a carousel gram with multiple pictures in a slideshow format. That way, you won't clog your followers' feeds and cause them to unsubscribe for life.
According to a study from CoSchedule, the optimal amount of times for a business to post on Instagram per day is 1-2, but no more or less. They also found the best times to post are between 8:00 am – 9:00 am and at 2:00 am (so make sure to schedule that post!). I would guess this is because people have more time to check their feeds in bed in the morning, as well as when commuting to work (I hope not while they're driving!).
7: Promote your Instagram everywhere
This one is also somewhat self-explanatory, but you need to leverage this channel in the same way you do your other social networks. For example, do you have social icons on your homepage or product pages connecting visitors to your social channels? An Instagram icon needs to be added as well.
Instagram Feed lets you embed your feed right inside a WordPress website
When setting up your Instagram account, you should first connect with Facebook to pull in your friends, but this is just the start of promoting your channel. You should be running Instagram campaigns across your social networks and sending out reminders to employees, brand-ambassadors, and partners (basically anyone who's established a positive relationship with your brand) to use your business hashtag and any hashtags that are relevant or important to a marketing campaign running.
Force (ahem, encourage) your employees, especially those frequently communicating with leads and customers, to add a link to your company Instagram in their email signatures. Add an icon of your Instagram handle to your LinkedIn profile and business card. Repost your Instagram photos to your business Twitter and personal accounts. The opportunities are endless, but once your Instagram is enticing get it in front of people and start building your follower base.
also read How to start information marketing business
8: Use all the tools Instagram has to offer
Since Instagram's birth in 2010, they've continued to make changes to the application at a good pace (although, take a deep breath, I'm not talking about a Google algorithm . Instagrammers can also get insight into their following base for instance the gender breakdown, age range, top locations, and the days and times of the week your follower base is most active.
It's also possible to get more granular information around a specific post by clicking on "View Insights" under the photograph or video. Some information here includes the number of likes, impressions, reach, engagement, comments, and saves.
Lastly, stay Insta-smart. Instagram is young, hot, and growing fast, and with the success advertisers have seen thus far the platform is only going to keep catering to businesses since this is how they'll make money as well. Instagram has already done a lot to support businesses on the platform with a whole section of their site dedicated to business owners and marketers. I'd recommend subscribing to the Instagram For Business blog to stay ahead of the game.
9: Get inspiration from others
"Steal ideas from other companies": this was the advice my first manager at my first job gave me when I hit an inspirational road block. It is genius advice when it comes to Instagram. There are so many incredible brands out there on the platform and you should be following all of them. Follow Charity Water, GoPro, Starbucks, Adidas, Taco Bell, all of the brands listed in this article, as well as anyone in your field or a related field and copy their best strategies with your own unique spin.
Aside from mimicking other companies, mimic your fans. According to Fast Company's Rachel Gillet, "In 2011 Chobani discovered that, even before the brand joined Instagram, their fans were posting photos of their artful concoctions using the Greek yogurt. The Chobani fans used hashtags like #creationaday and #chobani to showcase the yogurt as a core ingredient so it seemed only fitting for Chobani to build their following by piggybacking off of their fans' creativity."
10: Showcase beautiful experiences relevant to your brand
General Electric is a pro at this. You wouldn't think wind turbines were photogenic, but look at this stunning photograph below.
According to the Instagram blog, "Show how your company sees the world and make it meaningful to people." Not a photographer? Not all of us can be Annie Leibovitz. Instead start a hashtag campaign (see tip #1) and post photographs that your fans capture. We often catch a stellar sunset at the WordStream office in Boston—this is another easy win for a great Instagram account.
11: Interact with others to grow your Instagram followers
I've talked a lot about promoting your Instagram account, posting engaging, quality images, using hashtags to create buzz, and gaining inspiration from others, but another critical step in the process is interacting with your followers and the people you want to follow you.
If you're already posting follow-worthy content then start liking, commenting and following others. "If you expect people to engage with your posts, they expect the same as well," writes TINT CEO Tim Sae Koo. "The more active you are, the more exposed your username/account is to the owner and owner's followers." So search popular hashtags and like away! Write complimentary comments on people's posts and #regram images while giving credit to the original.
Protip: You can opt to get notifications when accounts you're targeting share a new post, so you can interact with it right away!
12. Choose the right profile photo
For most brands, your Instagram profile photo should be your logo. This helps provide credibility and allows visitors to see at a glance who you are.
Your Instagram profile photo displays at 110 by 110 pixels, cropped to a circle with a 110 pixel diameter. However, it's stored at 320 by 320 pixels, so you should upload a file that large to make sure it still looks good if Instagram changes how profile pics are displayed.
If your logo is a square, you'll need to zoom out to make sure the whole thing shows within the circle, like Home Depot does:
13. Create visually compelling content
Instagram is a visual medium, so your posts have simply got to look great. You don't need professional photography equipment, but your photos do need to be sharp, well-lit, well-composed, and in focus, at a minimum.
Even more important, your visual content needs to be compelling. Great photos are nice, but if they don't tell a story, or get viewers excited, they're not going to help you use Instagram for marketing.
Not sure what to post? Here are a few ideas:
also read How to start and Grow an SEO Consulting business
Behind-the-scenes posts: Give followers a look at your office, your storefront, or your manufacturing process.
Quotes and text-based images: Play with text to create visually interesting content with no photos required.
Regrams and UGC: User-generated content is by nature authentic and compelling.
Instructional posts: Teaching followers how to achieve a goal is about as compelling as it gets.
Videos: The maximum length of a video post on Instagram is 60 seconds, but you can go much longer with IGTV.
We've got a whole blog post packed with content ideas for Instagram, if you need more inspiration.
14. Establish your brand's "look" on Instagram
Once you decide what type of content to publish, you need to decide how it's going to look. As we explain in our post on creating an Instagram aesthetic, color influences buying decisions and brand recognition.
Your Instagram look should be consistent across your posts, helping followers easily recognize your content in their feeds.
One great example of this is the Instagram account mr.pokee, home of a hedgehog and a cat dubbed "the world's cutest adventurers."
The photos have a consistent color scheme, look, and feel. They're immediately identifiable.
One easy way to achieve this kind of consistency is to use Lightroom presets. We've got a set of five free Instagram presets you can download to get started.
15. Write great captions
True, we just said that Instagram is a visual medium. But that doesn't mean you can neglect your captions. Your brand voice is just as important as your brand look. Like your visuals, it should be consistent across posts, the most important part of your caption is the beginning, captions helps people to focus on and remember the information more easily.
Instagram captions can be up to 2,200 characters long, so you can use them for everything from a quick quip to detailed storytelling. That said, only the first two lines of text appear in news feed without tapping more.
Since people tend to scan captions rather than read them thoroughly, you want to get all the important information into those first two lines.
In our post on the best caption length for every social network, we recommend the following Instagram caption lengths:
Organic posts: 138–150 characters
Instagram ads: 125 characters
If you've got more to say, go ahead and say it. But make sure the extra text is worth it. National Geographic is the classic example of long-form Instagram content. If you can match their level of storytelling, don't be afraid to go long.
Your caption should be relevant, entertaining or informative, compelling, and on-brand. For more details, check out our post on how to write great Instagram captions.
16. Use hashtags wisely
Hashtags are a key way to increase your visibility and discoverability.
You can use up to 30 hashtags in an Instagram post. But, realistically, you probably don't want to do that.
We recommend using between five and nine hashtags per post. More than that can look like hashtag stuffing, a spammy tactic that turns followers off. Worse, if you use irrelevant or repetitive hashtags, users can choose not to see your content for that tag.
To get the most benefit, choose hashtags that:
Are relevant
Are specific to your niche
Do not encourage follow- or like-swapping (think #like4like or #followme)
We've got a full guide with the latest hashtag strategies for Instagram if you want to do a deep dive on this topic.
17. Engage
If you want engagement on Instagram, you have to engage, too. Posting quality content is great, but if you ignore comments and never interact with any other profiles, you'll have a lonely existence on the network.
At a minimum, respond to comments users post on your feed. But also seek out popular accounts in your niche, follow them, and like and comment on their posts. Make yourself visible in a non-promotional way.
If someone tags you in a post, check it out and look for opportunities to engage. Can you re-share their post in your feed or in your story?
Tell a story: Have a message in mind, even for this in-the-moment format.
Get interactive: Use Stories features like polls and questions.
Aim for personal connection: Stories are a huge driver of Instagram direct messages that help build follower loyalty.
Use a call to action: Don't rely on the small "swipe up" Instagram overlays for outside links. Use text to tell followers why they should swipe.
Be consistent: Like your Instagram feed, your Stories should align with your brand voice and aesthetic.
18. Use Stories highlights and covers to boost your bio
Half of businesses on Instagram use Stories. And they're getting great results: A third of the most viewed Stories are posted by businesses. Stories are a key part of a good Instagram marketing strategy.
Instagram Stories disappear after just 24 hours. Followers expect them to be more real and raw than your curated Instagram feed. They provide a great opportunity to connect with followers and build relationships.
You can create highlight albums to preserve your top Stories content, so it doesn't disappear after 24 hours. Your highlight albums appear right under your bio, and you can create custom covers for each.
Used effectively, this adds a whole extra component to your bio, giving potential followers loads more information about your business and why they should follow you on Instagram.
For example, Rocky Mountain Soap Company uses highlights covers to share some of their core values.
2X your social media results in ½ the time. Use Hootsuite to schedule posts on every network, engage followers, track performance, and more.
19. Try Instagram Shopping
Remember how we said you should get a business profile? Here's one more reason why: Access to Instagram Shopping. This feature, which is not available for personal accounts, allows you to sell products directly from Instagram posts and Stories.
Since you can't link from Instagram posts, this is a huge deal for brands. Here's an example shoppable post from Clinique.
It's easy to set up shoppable Instagram posts and Stories. Why bother? Simple: 130 million Instagram users tap on shopping posts every month.
20. Post at the right times
Did you know that the best time to post on Instagram varies based on your industry? It's true.
We analyzed 258,956 posts from 11 different industries and found that there really is a best time to post, even though Instagram feeds are no longer chronological.
Here are the best times to post for each industry we analyzed:
Travel and tourism: Friday, 9 a.m. to 1 p.m.
Media and entertainment: Tuesday and Thursday, 12 to 3 p.m.
Food and beverage: Friday, 12 p.m.
Retail: Tuesday, Thursday, and Friday, 12 p.m.
Professional services: Tuesday, Wednesday, and Friday, 9 or 10 a.m.
Non-profit: Tuesday, 10 a.m. or 4 p.m.
Non-retail e-commerce: Thursday, 4 or 9 p.m.
Pharma and healthcare: Wednesday and Sunday, 9 a.m.
Personal care: Thursday and Friday, 1, 2, or 3 p.m.
Technology: Monday and Tuesday, 2 p.m.
Education: Thursday, 4 or 5 p.m.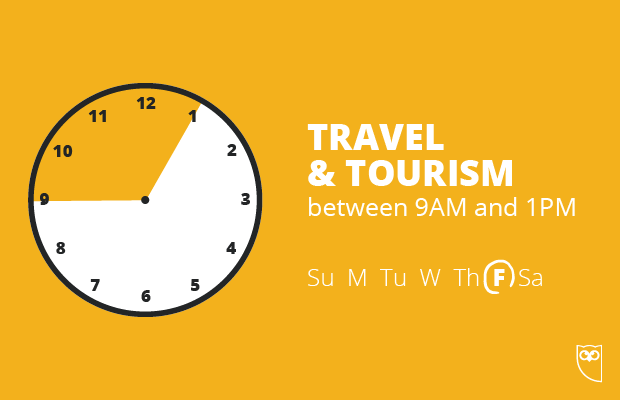 21. Try an influencer partnership
Working with an influencer can help to build your credibility while exposing your brand to a new audience. A survey by CivicScience found that 19% of American consumers have made a purchase because of an influencer or blogger recommendation.
One easy way to get started with influencer marketing on Instagram is to host an Instagram takeover. This means that you invite an influencer to take over your Instagram account for a set period of time, like a weekend, or for a special event.
You can also choose to feature the influencer's content on your Stories only, as SheerLuxe did with @GinaGoesTo:
You can preserve the Instagram takeover as a Stories highlight, as SheerLuxe did.